Created Economy 36: Interview With Fourthwall's CEO Will Baumann
Fourthwall is an all-in-one website builder for the Creator Economy. But what makes it so special and how does it help creators create content and focus less on monetizing their work?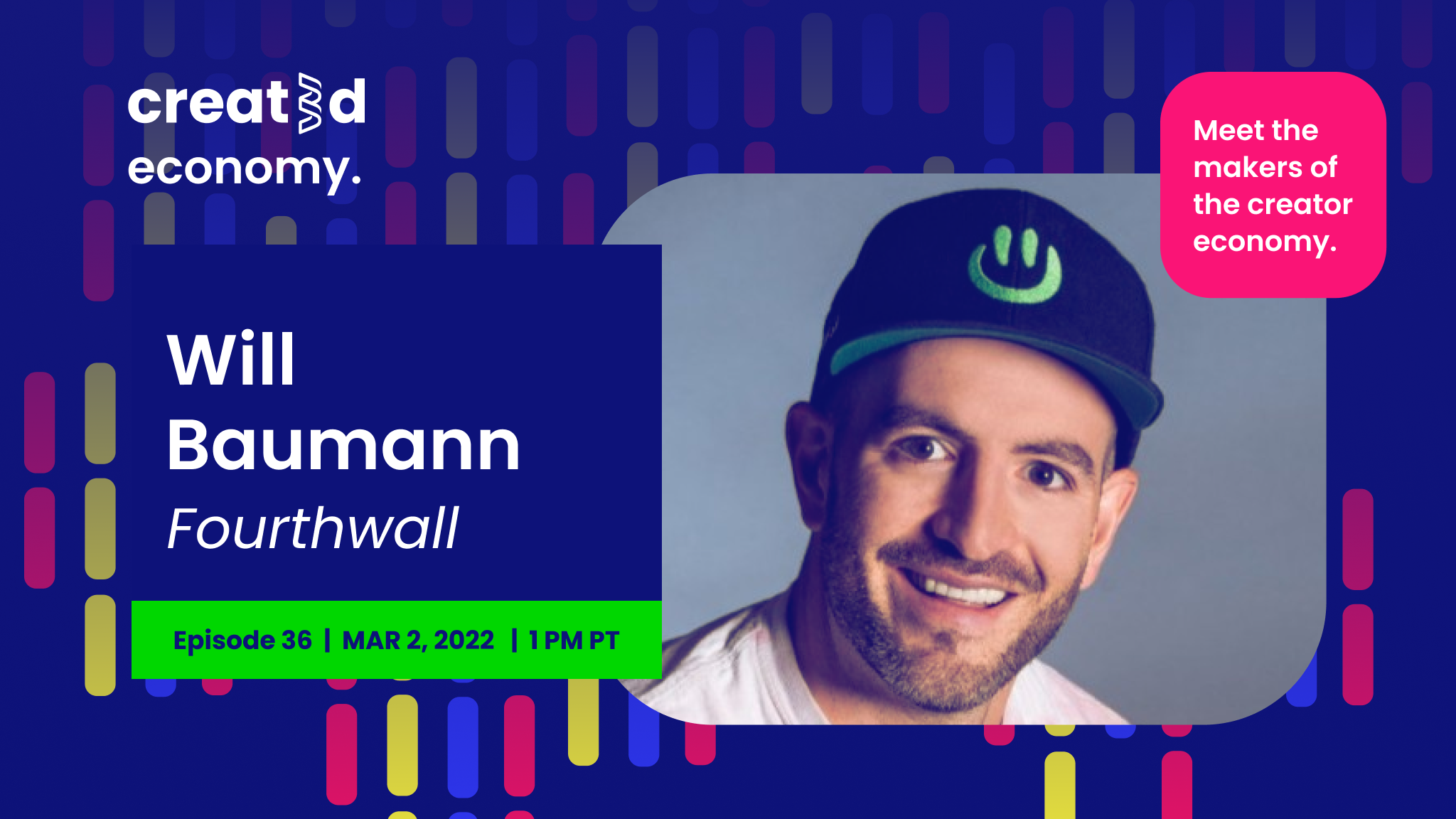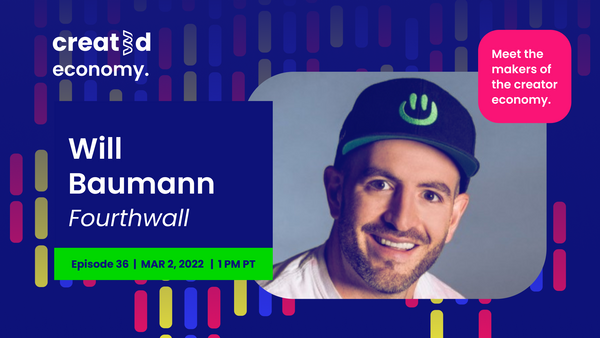 Fourthwall is a platform that creators can use to build their online presence and grow their communities. In this episode of "The Created Economy," Gregarious Narain and Ken Yeung sit down with the company's co-founder and CEO Will Baumann to learn about the advantages one gets from having their own branded site. Plus, we hope to find out more about what it's like building a tool for creators and more.
Watch the Replay
Watch the entire video on YouTube — be sure to like and subscribe to our channel!
---
Highlights From the Interview
Some of the insights Will Baumann shared about Fourthwall, the merchandise trend in the Creator Economy and more.
What is Fourthwall?
Fourthwall is an all-in-one creator website builder.
"Our goal is to allow creators to show off their latest content design and sell products, offer memberships engaged directly with their biggest fans and do it all in one place," Baumann told us. The space is 100% owned by creators and self-branded. "So instead of having to set up your product sales on a Shopify, connect that with PayPal for donations, add on a Patreon for memberships and then stitch that all together, it's all done in one place."
"One of the things we really noticed is just how hard it is for creators to figure out the money-making side of things. There's really no playbook. Nobody has a starting point. Everyone's candidly figuring it out from scratch."
Baumann argues that creators don't have time to worry about this when they're instead focused on creating content and their communities: "How the hell are you going to figure out how to launch an e-commerce line? How the hell are you going to figure out...what a proper membership program looks like? How are you going to figure out any of this stuff?"
Fourthwall's goal is to make the process easy in a "dead simple" manner while giving creators ownership and flexibility. "So as they grow, they can really scale things up and give them that branding. So [creators] own that end-to-end experience."
Why use Fourthwall versus Shopify?
"When you buy from a brand...like a Nike...you want a cool pair of, let's say shoes. You want a fresh pair of kicks, but you're not really doing it because you support Nike, you just want something that's cool and limited edition. When I buy from a creator, it's really an active support or an active love. And I think that's something that permeates the experience of Fourthwall. And so an example of this is built right into the checkout flow. The very first step, you can leave a message to these creators..."
"I think that aspect of community building, like you, would never imagine that in a Shopify-type of world, it doesn't make sense. It doesn't really fit."
Baumann acknowledged Shopify is a great tool but it's a power user tool. "It's like the same way that you might imagine Photoshop to a photographer." He went on to explain the other steps creators would have to take to get their merchandise store up and running: Signing up, hiring a theme developer, figuring out a website layout, hiring a manufacturer and the factory that'll be used, and run customer support and fulfillment.
He boasted that with Fourthwall, it's a "drag-and-drop experience." The site is branded to the creator and Fourthwall will handle the manufacturing, fulfillment and customer support. "So the whole thing should take you 15 minutes or less to go from my idea to my brand to my sales."
On why creators should build out their presence away from social media platforms
Why should creators not rely solely on Link-in-bio tools to promote themselves? Baumann believes a central hub is necessary to aid in discovery. It's something where "foundationally there is a need," he said.
"You want to diversify a bit off-platform, at least in terms of how you connect with your super fans. So you never know if there's going to be, let's say another YouTube ad-pocalypse or algorithm shift that really changes how your discovery element is."
"And if you haven't built effectively your email list or CRM of your fans, it's hard to really scale that out from here. It's hard to really bring that forward. And so largely speaking, I think building your own brand offline, it's pretty foundational to how you scale up and how you think of yourself as growing from just the entertainment side into the business side."
Is there a sweet spot for when creators should become entrepreneurs?
Asked about when should creators embrace being entrepreneurs, are there any signs that it's the right time to embrace monetization, Baumann said he doesn't think the number of followers should determine that. Rather, a better metric is one's time.
"I would say the metrics are creators who are, by far, the most successful are personality-driven, unequivocally."
He said Twitch creators are the ones who shine in this area, followed by YouTubers, TikTokkers, and finally Instagrammers.
"A part of it for Instagram is it's a little less personality-led. It's getting more so with some of the Stories, Shorts, Reels and things like that. But it's harder for Instagram influencers to be able to convert into that monetization channel because it's like a lower engagement connection. To follow someone on YouTube, or even to listen to this show, you're committing to an hour, versus like Instagram, it's a feed that you're scrolling in a few minutes."
The desire to be for all creators, no matter the size
Baumann explained that Fourthwall is free for all creators. Any fees that are charged are from payment processors along with a small cut depending on its negotiations with manufacturing partners.
He argued that a claim the company takes a 5% cut of a creator's earnings was a "misquote."
"We don't have a percentage fee on top of this take because otherwise, it's a natural incentive to graduate."
"Our vision is we want to be there the day that the creator starts their journey."
Advice on how to engage creators?
The Creator Economy is a "super tightly network space," Baumann warned. "So if you're working with a creator who, let's say streams Minecraft...if you screw up for one of them, you've screwed up for every single one of them."
This is the reason why Fourthwall is currently invite-only, we're told. "We really want to get it perfect with everyone in these sort of small micro-communities so that they love us and they want to recommend us to their fans or their friends."
What's next for Fourthwall?
Two core sellers that Baumann sees through the platform are physical products — "bread and butter where we've had the most success for" — and digital goods — "we see quite a bit of that ranging from no so much courses, but a lot of shout outs or what I would call personalized videos."
What about NFTs? Fourthwall might eventually get into the Web3 space, Baumann told us, but "we haven't had interestingly much demand there from our creators."
He estimated about 10% of users have asked for NFT support, but the primary demand is for physical goods, basic digital and community engagement support.
Coming soon: A fully-branded membership experience. Baumann revealed this has been something Fourthwall spent the last nine months to a year working on. It's Patreon-meet-Shopify.
"So you not only have access to things like the private videos or behind-the-scenes content, but you can also seamlessly combine that with an e-commerce experience." He equated this to how an NFT might unlock this feature. "If I'm paying $5 a month, maybe this is a shirt I can get 20% shipping discount, or if I'm in the six-month members club, you get access to this special exclusive good."
Baumann shared the first proof of concept will launch to creators in early April. For the rest of 2022, Fourthwall will focus on "smoothly combining that e-commerce with the membership, because nothing like that really exists today for creators."
---
About This Episode