Created Economy 039: Interview with Spotter's Mehul Trivedi
Why is Spotter paying creators for their back catalog of YouTube videos? Spotter's Head of Product Mehul Trivedi explains what this unicorn startup is up to, why it's spending $1 billion on creators, and what lies beneath the surface.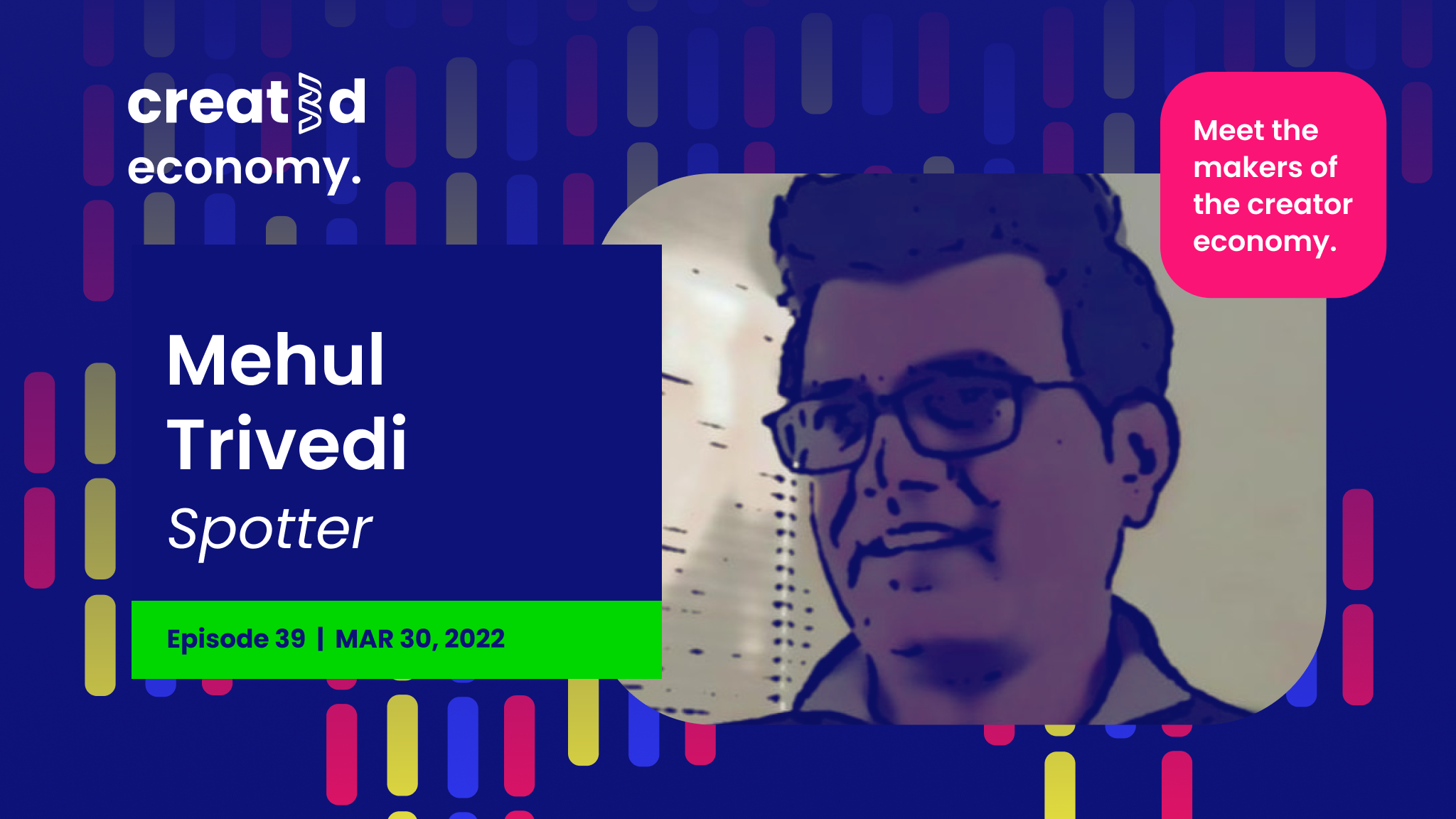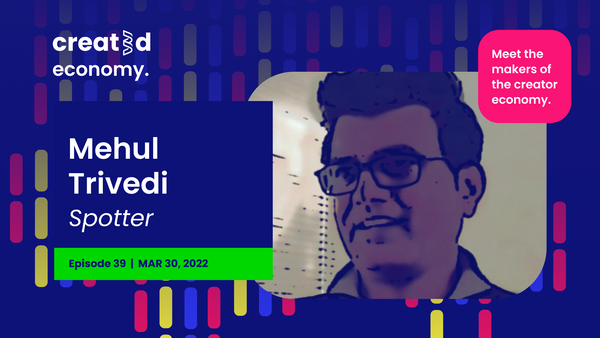 Spotter has made headlines thanks to its push to invest $1 billion into YouTubers' back catalogs. But why? What does this startup that was founded in 2019 have to gain by striking licensing deals with content creators?
In this episode, Ken Yeung sits down to talk with the company's Head of Product Mehul Trivedi, a veteran executive with some of tech's biggest names: Twilio, LendingTree and Microsoft. We learn more about Spotter's strategy and how it's helping creators scale their business.
Watch the Replay
Watch the entire video on YouTube — be sure to like and subscribe to our channel!
---
Highlights From the Interview
Don't have time to watch the whole conversation with Mehul Trivedi? Here are some key insights he shared with us.
On his background
Trivedi describes himself as a product specialist: "I have worked for large companies, such as Microsoft and Twilio, solving different types of customer-facing problems...I like to solve customer problems with engaging, relevant, exciting experiences."
He says his strength comes from "finding solutions that are at the center of tech visibility, market opportunities and customer value." For him, the core is the customer and then you work backward from there.
Spotter's interest in the Creator Economy
Trivedi says working with creators is an exciting space: "The creators are hyper-creative and emotionally-active segments. They're involved in every aspect of their output in your product." His aim is to help creators — YouTubers specifically — "achieve their dreams of building the best videos as possible, growing their channel into great businesses and so on."
Spotter has invested more than $350 million in capital to creators but isn't stopping there. But in order to achieve that, Trivedi claims the company has to create technology products with "slippery and sticky, good customer experiences for creators."
The company was created after the realization that creators aren't able to grow fast enough. "At the core of it is the capital," Trivedi explains. "But there are also other things that we can help them with, the insight into the data either they don't have time for, or they haven't thought about some of the innovative ways of looking at their data."
"New videos are worth a lot more than your old videos. Old videos decay really fast and then for a long period of time the value is locked up in your old videos. And that's where...we help with capital — unlock the value in those old videos and provide the capital without any restrictions to use for creating new videos, [allowing creators to grow] their business, building the business the way they wanted."
Trivedi stresses that the investments are not an advance or loan: "That in itself is a power for the creators to have while they still hold the intellectual property."
"We are creator obsessed. We believe passionately about making the creator successful in helping them achieve their dreams of making the best video, of building their business to the full potential."
Though Spotter is writing checks for around $1.5 million, Trivedi explains that the startup wants to help creators of all sizes. "One thing we look for is longevity: The creator's commitment to the platform and to the craft."
Onboarding new creators
The first thing Spotter asks creators is for authorization to their YouTube channel so its data analytics engine can analyze the data and determine the right valuation.
After that, the company will provide creators with the characteristics of the channel and any supporting rationale for its evaluation.
Spotter will check to ensure that the channel content belongs to the creator and claims are "fine and right," and that it does not run afoul of the company's investment philosophy. If everything is okay, then a deal could be signed.
Investment in videos can't be all that Spotter does, right?
Is Spotter just a financier to creators? How is what it's doing defensible? Perhaps the company is looking at a Big Data play under the surface?
"Data is definitely at the center of our use cases, whether it is to understand the creator's library's value or in some cases, when we match the brand with the right suitable library or the audience," Trivedi admits. "I don't know if we would ever go as far as Big Data for monetization."
Spotter uses Big Data to help understand behaviors in order to help creators make the most money, determine what works for them and how they can scale with more subscribers, views, and revenue.
Web3 and branching beyond YouTube
"We are definitely watching Web3 closely," Trivedi says, but the company doesn't have any immediate features specific to disclose.
"Overall, integration is where we see a lot of opportunities with Web3. NFTs...is going to be another substrate on top of it...so any of the offerings enabled by any of the new emerging technologies, we'll keep a close eye on, and if nothing else, start experimenting the good experiences to help the creators."
While Spotter is primarily investing in traditional videos on YouTube, Trivedi acknowledges that the company is keeping a close eye on Shorts. While indications are that users are engaging with these short-form videos, Spotter is monitoring the monetization capabilities. "At the end of the day, creators need to monetize the content to make sure that they can continue to create the content that is high quality, engaging and rewarding."
"If at any point it looks like Shorts are turning the tide and we can help creators monetize much better on that platform, we won't be far behind. We are watching it like a hawk, really close."
Will Spotter expand beyond YouTube? Trivedi says it's a question that comes up all the time. "YouTube is really large. It's a world in itself. For YouTube to change [its] behavior or change [its] stance would be a pretty big shift. It could happen, but we see a very small probability of it. And so at this point, we are comfortable focusing on YouTube."
Trivedi states Spotter continues to have debates about at what point should the firm spread itself across multiple platforms. "Are we actually unlocking or locking creators by going into other platforms? Then it would become an easier decision to build on that synergy for offerings and other platforms."
On joining a startup as a PM, especially Spotter
Trivedi expresses excitement over building a minimum viable product or version one at a startup: "It's a very unique experience. You get to leave your mark on the company."
Product building at a startup will teach you a lot and help you uncover things about yourself, he tells us. For product people, "it's an important insight to develop. They need to be self-aware...before they can help anybody else."
Experimentation is the name of the game when choosing to work at a startup: "You either succeed and scale" but "on the next experiment, you might fail and you need to pivot. Learning that agility is an important thing. People that have either not worked in those environments or have not worked at all, it takes a little bit of [muscle building] to do that, to work in a vague environment with no playbook for success."
Trivedi encourages product managers to write their own playbook and to learn from both experiments and experiences.
He cautions that you need to be happy working in an environment of chaos and that there are times when you'd be constrained, either by "the wisdom of previous successes, mentorship or sometimes...constraints of resources."
---
About This Episode