Created Economy 35: Interview With Linktree's Music Lead Sammy Kaufman
Linktree helped put the Link-in-Bio phenomenon on the map, but why is that one line in our social media profiles so powerful? We talk to Sammy Kaufman, the company's music lead, about it and more.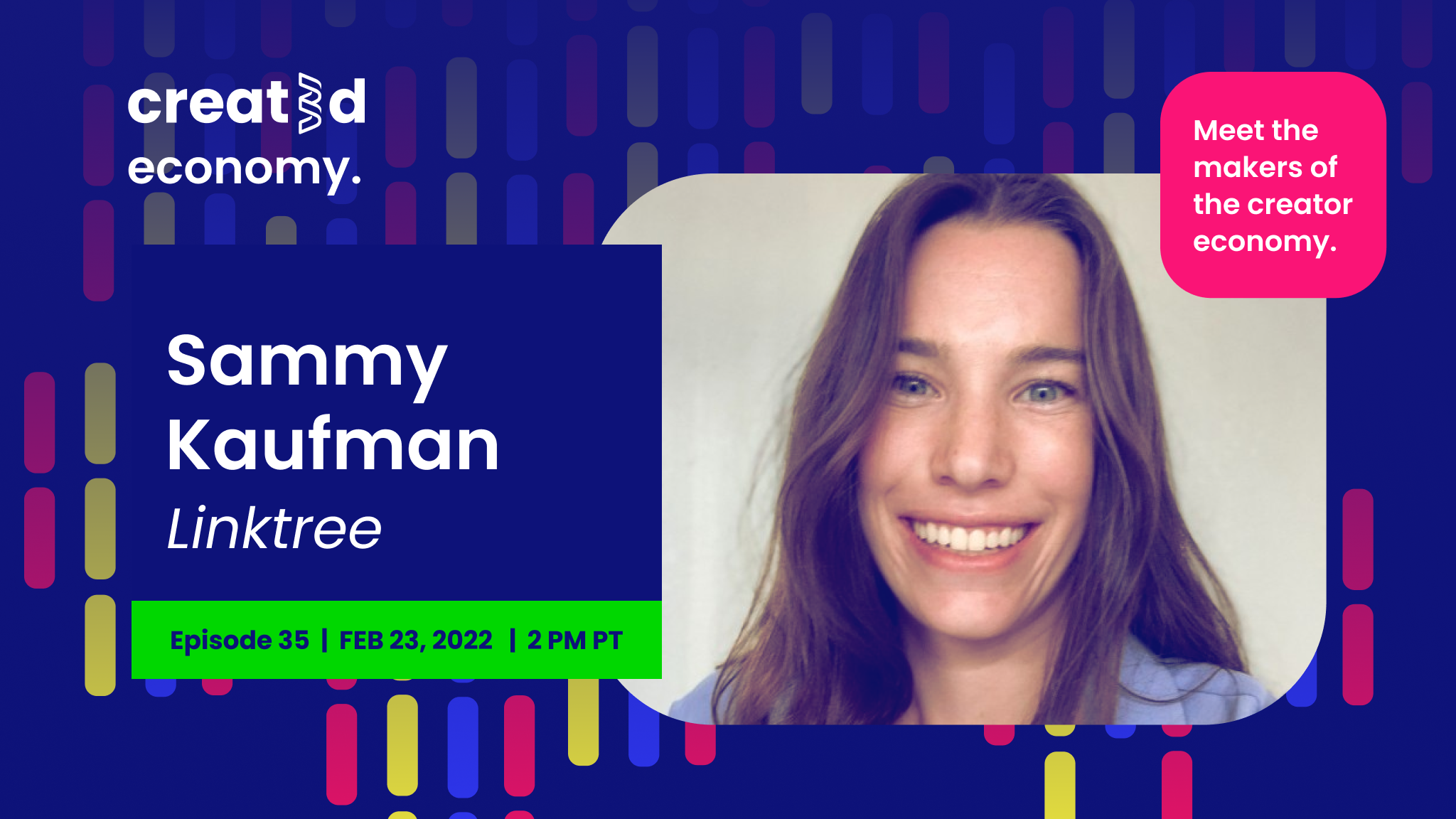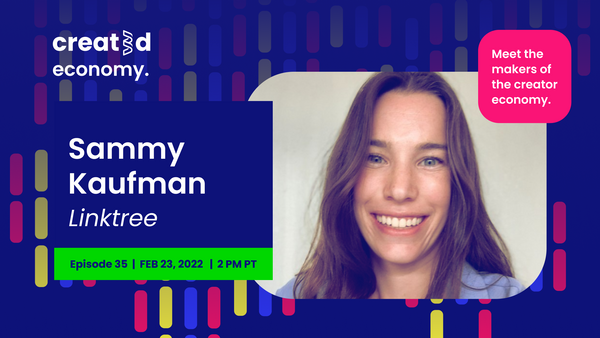 How have Link-in-Bio startups taken the Creator Economy by storm? We find out in this episode in which we chat with Sammy Kaufman, the Music Lead for Linktree. Learn how creators, brands, artists, publishers, agencies, and businesses of all sizes are using the service to build a community and monetize their passions. Plus, dive deeper into how music creators are using tech to grow their fan base.
Watch the Replay
Watch the entire video on YouTube — be sure to like and subscribe to our channel!
---
Highlights From the Interview
Some of the insights Sammy Kaufman shared about Linktree and how music creators use the service.
The power of one line on social media profiles
"We live in a world now where you don't just have one piece of content at one time," Kaufman told us. "We also don't live in a world where there's just Instagram. I feel like there's another social platform opening up every day that you have to be on."
She admits it's "really tough" being a creator today as there's an expectation to be on every social platform at once. Kaufman also pointed out that it's a super fragmented experience and that people forget that "just because you have X amount of followers on Instagram doesn't mean that you have that same amount of followers on TikTok or on Twitter."
Having a common link will bridge that gap between all platforms, connecting not only the content but audiences: "Because they're not the same and it's important to recognize that."
Helping musicians understand tech
Kaufman knew at the beginning she wanted to work in music, finding herself working at CAA in music touring. She joined the Soho House in New York managing its membership across two locations.
She eventually worked for Raised In Space, the music tech investment fund created by Scooter Braun. "That was really my first introduction of tech and...music tech," Kaufman said.
To her, a big problem is that a lot of music people can't speak tech and tech people can't speak music. She appreciated being the bridge helping artists and their teams solve problems with a tech mindset.
Would the Creator Economy be where it is without the COVID-19 pandemic?
"I think we would have gotten there, but I do think it would've taken so much longer, and I think, for better or for worse, the reason why we got there is because there wasn't any money coming in. And touring is a massive revenue stream for artists, for labels, for management."
"People had to get scrappy because it wasn't just their artists' livelihood. It was this trickle-down effect of the entire industry. And so it created somewhat of a panic to be like, 'Okay, how else can we monetize?' There was always music, but music is incredibly complicated with royalty splits, ownership and all of that fun stuff."
What's the big picture of Linktree?
Linktree has more than 250 segments and music, which Kaufman is responsible for, isn't the biggest one.
She says that much of the platform is built for the hobbyist, for "that person who is making music because they love music or because they do want to have a fan base, but they're not trying to be the next Lady Gaga...they're just trying to enjoy their craft and enjoy their passion."
When asked why should people use Linktree over having everything on their own website, Kaufman replied: "I think [Linktree and websites] accomplish different things. I think we live in a mobile world now. Anyone who is coming to your Linktree is very likely coming from a social platform. So they're coming from Instagram...TikTok...Twitter. So they're on their phone, which means that the screen is smaller. You need to give them bite-sized information but also you need to not overwhelm them."
"If you want to build your own website and you want to do this yourself, that is fantastic and we support it, but they're two different things."
Kaufman emphasized that not everyone has the time or resources to set up their own digital property: "Not a lot of artists have time to do that, or they don't have the money to do that. And even our free version allows you to do so much of these things, which was really our goal. We just wanted to empower all these creators no matter where they are in their career."
"Think about Linktree as an active tool. The other benefit is, at the end of the day, it's one link. You only have to update one link. It's not going back into every bio, platform YouTube description — it's already updated because you've done it."
She also shared how a music release shared on Linktree generated on average a "500% increase in traffic the day" the song dropped, regardless of whether the Linktree profile was promoted.
In August, Linktree announced a Music Link feature, so how does this help creators?
Music Link is "essentially just auto content-matching." The feature is compatible with Spotify, Apple Music, iTunes, YouTube Music, TIDAL, Pandora, Deezer, SoundCloud, Napster, Yandex Music, Spinrilla, Audius, Amazon Music, and the Amazon Store.
The three pillars of most musicians, Kaufman said, are music, merchandise and touring.
"What Music Link does is it allows you to truly just copy and paste a song or album link of any of your releases on any major platform. And it will, like magic, automatically find that release across 16 other major streaming services."
"The whole idea here is...it's tedious to go and find that release across Apple Music, and then find it on YouTube, and then find it on Deezer. And you're like, 'Where did my day go? I hate my life.' And so we just wanted to make it as simple as possible."
Advice to creators on evaluating technology?
Kaufman believes that it's really easy to get overwhelmed, especially since today's creator is more tech-savvy than yesterday's.
"They have a lot more of an understanding of the tech space, but I think ultimately you have to follow your fans and you also have to be authentic to yourself."
She stresses "just don't get ahead of yourself and let curiosity lead" and that creators don't have to be doing what others are doing.
Is Linktree getting into Web3?
"When it comes to NFTs and Web3 within Linktree, it is absolutely on our radar. We are always trying to evolve as the creators evolve. And so if that's something that they need and they want, we are absolutely going to make sure that it's something that's accessible to them."
Did you know Linktree has a passion fund?
Linktree was founded as a side hustle, Kaufman told us. "I think that is something that we really organically embrace. Whether it's from COVID, whether it's from just how the internet has changed, it seems like everyone has a side hustle and is a creator in their own right."
The fund is designed to support "people who are truly passionate about what they're doing, whether it's their full-time job or something that just makes them who they are."
She touted that Linktree wants creators to use the money "in the way that they see fit for their passion" and that the company will try to align itself to be a resource for them.
---
About This Episode