Created Economy 037: Interview with Pinterest's Alexandra Nikolajev
Pinterest was a hub for creators before TikTok and Facebook entered the scene. Learn about Pinterest's point of view, how it keeps things positive, and helps turn inspiration to action.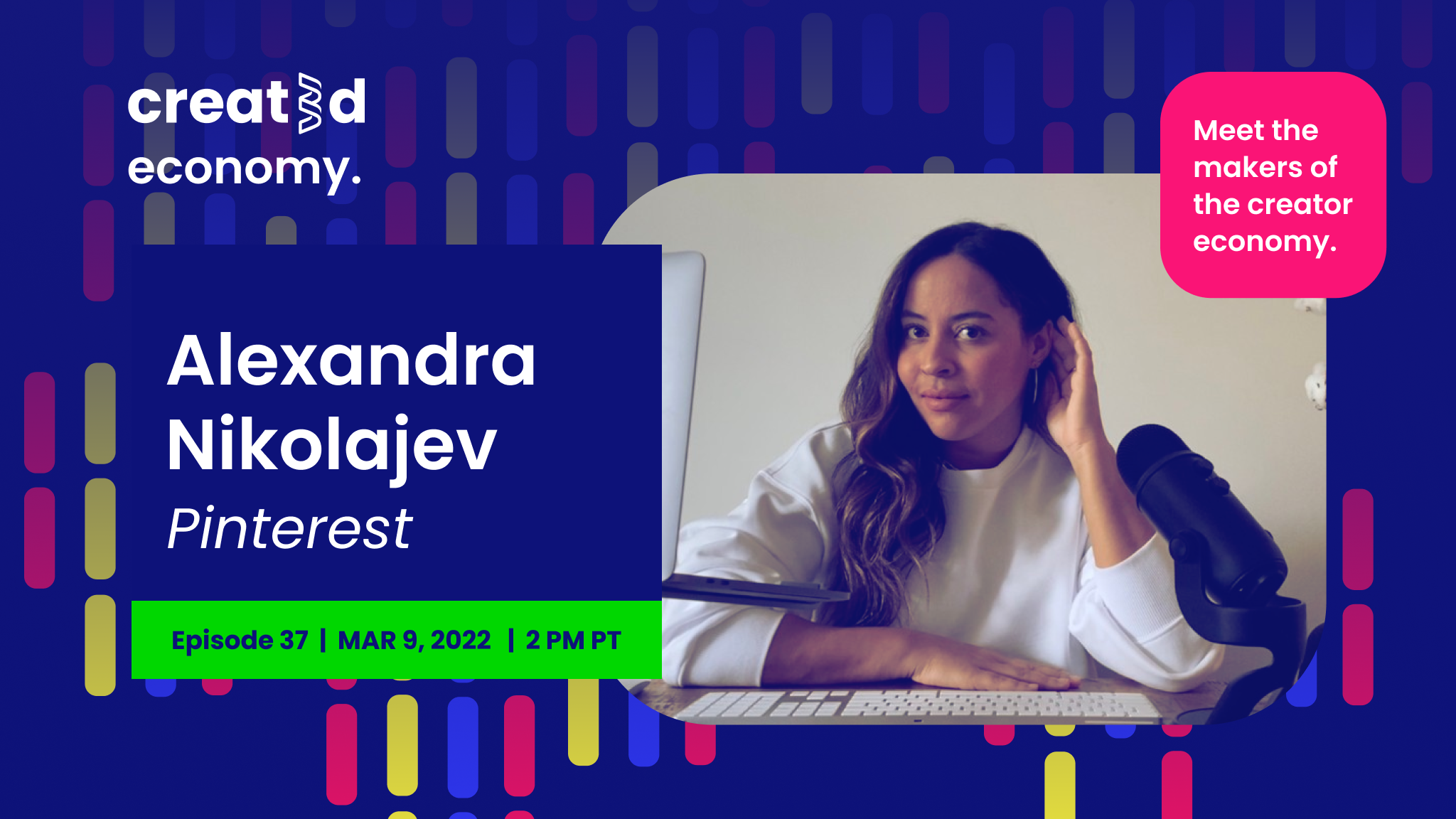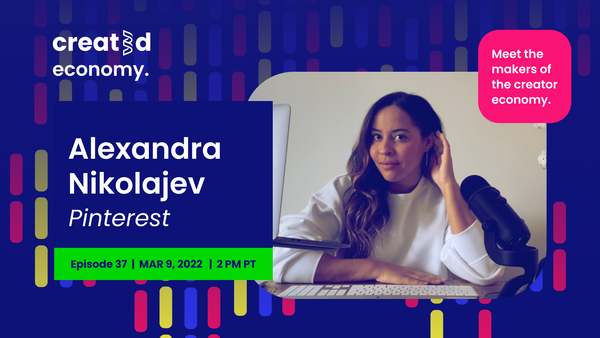 It's easy to discount Pinterest when talking about the Creator Economy — but you'd be wrong. The platform has been a home for many creators, including those producing goods and merchandise that may not exactly resonate elsewhere.
In this episode of "The Created Economy," we chat with Alexandra Nikolajev, who leads Pinterest's global content and relationship with influencers at large. We'll talk about the company's strategy and the future of online shopping.
Watch the Replay
Watch the entire video on YouTube — be sure to like and subscribe to our channel!
---
Highlights From the Interview
Some of the insights Alexandra Nikolajev shared about Pinterest's creator strategy, how it strives to foster a positive environment, the future of social commerce and more.
The Pinterest perspective on the Creator Economy
Nikolajev leads Pinterest's creator content and partnerships team. Her time at the company started out as a creator manager and the lead for creator inclusion. She's also a podcaster with a show dedicated to pop and internet culture.
What excites her about the space is it's gone from where "nobody wanted to give creators the time of day to where now [a creator's] earning potential is so high and their reach and influence can be so strong."
Who are creators according to Pinterest? "It really goes back to our mission of bringing everyone the inspiration to create a life they love. We want those inspiration makers. Those are our creators." Nikolajev goes on to say that Pinterest is not only looking at siloed audiences. "We do recognize that some people start at different places, but we all have the opportunity to evolve into a creator if that's who we want to be."
Though Pinterest initially has been a place where people bookmark and save ideas, the company realized "beyond the fact that people want to style an item of clothing, find a recipe...we've recognized that those behaviors are also developing into new behaviors, and we want to evolve with those changes because now it feels as though you don't just want to save an idea. You want to know the step-by-step of how to do it. You want to know where to buy those exact items. And you want somebody to show you how to do that. And somebody that you trust, a.k.a. a creator."
What does Nikolajev do?
She explains that Pinterest has reached a point where "we want to start telling everybody about" the efforts the company has made in supporting creators over the past year and a half. "We want to start going out and finding like-minded partners, like-minded creators to help us continue to evolve."
It's part-content marketing: "How can we tell the story of who the creator is now that we are living, breathing, working with these creators in collaboration to build a platform that serves their needs?"
The goal is to also find events where Pinterest can bring creators and give them a seat at the table to give them visibility and amplify not only the company's work but that of the creators and brands that it works with.
Creating an inclusive creator ecosystem
"I love advocating for underrepresented creators and ensuring that everybody has a seat at the table. That is something I'm extremely passionate about on a personal level," Nikolajev told us.
While conversations were starting to happen throughout the pandemic around inclusivity through brands, products, etc., she said that was top of mind for Pinterest's creator managers. However, she admits "we didn't have anybody bringing that all together in a global capacity to really oversee and ensure that we were putting measures and the threads were being weaved throughout the teams that are all around the globe with Pinterest to really ensure that we had a line of sight on what we were doing." This precipitated her promotion to be the company's creator inclusion lead.
Nikolajev says Pinterest wants to be proactive about inclusion. "We have people internally that are already doing this. We need to bring them together to make sure that we are all aligned in what our mission is when it comes to inclusivity on Pinterest, because we just feel very strongly and passionately that we lead. And we are the leaders in the market in this environment."
Pinterest is building tools to promote inclusivity. Nikolajev shares the company has launched a hair pattern tool and a skin tone range feature. It also has a "creator code" in which all creators are obligated to sign. "It's essentially a commitment to kindness because we don't want people to be surrounded by negativity and comparison online."
Pinterest's creator offerings
"What's...been cool about this creator journey is [that] a lot of the tools that we've built and the programs that we've put in place have actually been in collaboration with creators," Nikolajev explains. Pinterest hosts "creator advisory councils" in which creators provide real-time feedback to the company on product development.
She highlights some recent launches, including Pinterest's Idea Pins: "Those are our multi-page pin format. They include video, picture, but they allow creators to show users a step-by-step process around an idea, all in one place." And then there are "Takes" that allow creators to engage their communities. "With Takes, what is so fun is that on an Idea Pin, you can slide over and add a Takes functionality, which actually allows the people engaging with your content and your community to show you their take on the idea that you just created."
From a higher-level point of view, Pinterest produces Pinterest Predicts, an annual forecast on top trends around "everything from beauty, fashion, home, food, parenting, lifestyle, travel, etc." Nikolajev says the 2021 edition of the report was the first time the company "really brought creators into the fold." The goal is to "align creators who are doing amazing things in their markets from a global perspective with these trends and feature them as ones to watch."
Pinterest Predicts creates an opportunity for Pinterest to match brands and advertisers looking for future trends with creators
Other creator tools that are available: A product tagging tool where creators can tag and use an affiliate link for products or brands; and a creator rewards program currently available in the U.S.
Nikolajev reveals Pinterest is looking at more ways to help creators earn money by "contributing the content — the high-quality, amazing content — that they're already doing."
Creators are reacting positively: "Creators just feel like they're very much being seen here. They feel like it's a positive space for them to create. They believe that we're taking their feedback because we actually are...we really treat our creative partners almost like consultants. Instead of going to that third-party organization, we're working directly with our creators and compensating them."
On finding inspiration and taking action
We ask Nikolajev about a sentiment outlined in an article on Protocol: "The secret magic of Pinterest is being able to inspire people to take action." She tells us that creators can find on Pinterest an audience "intentionally searching to find those ideas and go do them." But the platform has a culture in which users are also looking for ways to see those ideas in moments, and in "bite-sized snackable ways."
"They want to see it in that moment. 'This is the idea I want to do. Try or buy. I want to know how it's going to work. I want you to tell me, and I'm going to go do it for myself.'"
Don't sleep on Pinterest as a viable creator platform
"We find that creators feel more fulfilled coming to Pinterest for their experience because we're going beyond impressions. We're going beyond impressions. We're going beyond engagement. And we're not pressuring them to constantly create on Pinterest," Nikolajev asserts.
She recognizes the incredible stress that is placed on creators and that burnout and fatigue are real. "So we want them to just come here and be very deliberate in the work that they're creating and intentional with that central feeling of wanting to inspire."
What types of creators are the biggest on Pinterest? Food, home, fashion, beauty and wellness right now. Travel ranked high previously. Nikolajev clarifies that though wellness is popular, it's "encompassing of everything from fitness to self-care and mental and emotional well-being." Pinterest also is seeing growth in interesting subcultures such as Marvel, fairy-core and goth.
How does social commerce fit in with Pinterest?
Pinterest and shopping apparently go hand-in-hand: "It's not just about buying the product," Nikolajev tells us. "It's the moments before, it's the studying, the trying something and now really it's that recommendation from a trusted creator before they make that purchasing decision."
In December, the company launched Pinterest TV, a series of live original content. "It really started as a place for creators to share their ideas for others, to learn alongside them or for them to teach. But it quickly evolved into a shippable functionality" in which people are not only able to buy it, but can do that idea alongside the creator.
Nikolajev doesn't know if Pinterest TV-like functionality will be made available to individual users who could then host their own QVC-style shows. "But that's a really cool idea. I think that almost sounds like a marriage of where we're going with our product tagging function where you can use affiliate links on recommendations and Pinterest TV. Is there a world where we marry those two? I think that's a very good question, but I sadly do not have an answer to that. But I might just take that away with me."
What excites Nikolajev about the creator economy?
"I do feel like there is going to be [a] richer appetite for a more positive community-based platform." She sees in the current landscape that there "is this witchhunt mindset in comments in how people react to creators, to virality that is really just difficult and nasty to swallow that I feel people will very quickly grow tired of..."
Nikolajev believes augmented reality will be big in the future of the industry, allowing people to "try" on clothes at Pinterest and elevating the shopping experience. "I think that can be a really interesting way to evolve into the future as we become more and more integrated with the internet and with social media."
Will we see Web3 or NFT integrations?
"We are talking about it, but we're talking about it." She acknowledges that Pinterest is having "water cooler fodder" over it, at least from the creator side. But there is nothing she could reveal.
---
About This Episode