Created Briefs - September 24, 2021
A look at the week's top creator economy news with our own analysis.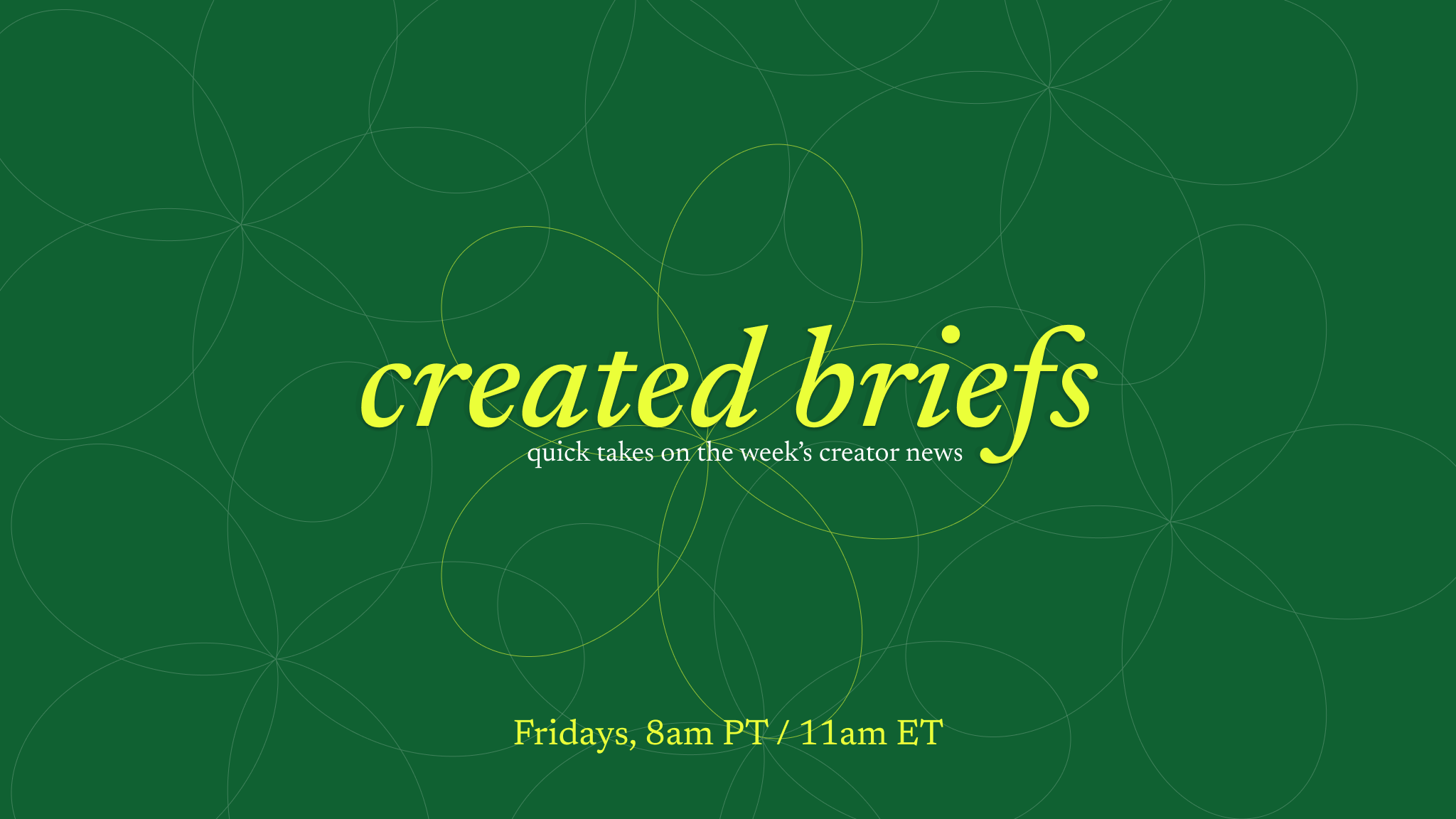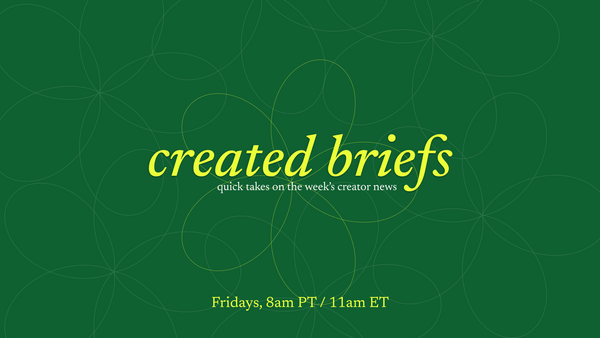 This Week's Creator Economy News

More NFT Projects Getting Representation
CAA has its own NFT artist now, having booked the team behind the Bored Ape Yacht Club for representation.

This all still feels very new and it will be interesting to see if we are living in a realm filled with one-hit wonders or something that goes deeper.

Great NFT projects build communities, interactions, and experiences.  How that translates into both the existing world and the metaverse leaves lots to imagine.
Twitter Now Supports Bitcoin Tipping, NFTs, Recorded Spaces, and Launches a Creator Fund
Twitter's "Tip Jar" feature is now open to all users on iOS, with support for Bitcoin coming later along with access for Android. Users will be able to receive Bitcoin tips using their address or Bitcoin Lightning wallet. Twitter has integrated with the Strike payment app built on the Bitcoin Lightning network. The "Tip Jar" will also support other services such as GoFundMe and the Brazilian mobile payments service PicPay.

A creator fund will be launched in a few weeks to give audio creators access to financial, technical, and marketing support. Twitter declined to provide specifics such as the fund size or reach but views the initiative as something aimed at helping creators get started with Twitter Spaces, not rewarding creators for the content they produce.

Another thing Twitter is working on is a way to authenticate NFTs on the platform, allowing creators to connect crypto wallets to the app in order to track and showcase NFTs on the platform. This is still in the early stages.
Other Updates
"Heads Up" will give users a sense of a conversation's "vibe"
Working on a Spaces discovery tool to find Spaces at the top of the timeline and elsewhere in the app
The ability for creators to record and replay their Spaces
Expanding Ticketed Spaces
Improving newsletter discoverability
Launching a creator earnings dashboard
Tumblr Launches Post+
In more of the, everybody's doing it so why aren't we category, Tumblr is launching Post+, their premium subscription product.
More Creator Programs by Brands
We mentioned Chipotle a week or two ago, but now it seems there are more of these programs cropping up with different models.

Too often, as Matt Zuvella will remind us, these are free giveaway programs where creators are compensated in kind, which kinda sucks.
Fuck You, Pay Me Raises $1.35 Million
Fuck You, Pay Me is an app that lets creators analyze brand deals, including what they're paying, what it's like to work for them, etc. It has been compared to being a "Yelp for influencers." The company raised $1.35 million in funding. The money will be used to improve the product, including building out the company's engineering team.
Cameo Calls
Cameo continues its live calling program in a slightly different manner.  Now activated via their app, fans can connect in real-time with celebs they live.
As TechCrunch notes, "The talent sets the duration, time, and price of their call, which Cameo says averages around $31."
Twitch Strikes Music Agreement with National Music Publishers' Association, But No Licensing Deal Yet
Twitch has ended the hostile relationship it had with the National Music Publishers' Association, saying the two will work together "to build productive partnerships between the service and music publishers." The idea is to create new opportunities for songwriters' creation to gain more visibility on the live streaming platform. This falls short of being a licensing deal so creators can't easily use music in their work.
In-Person TwitchCon Returns in 2022
After canceling it due to the COVID-19 pandemic, Twitch announced that its creator conference will return in 2022. It'll hold TwitchCon in Amsteram in July 2022 and San Diego in October 2022. It now has more than 50,000 partners and 12 million affiliates.
Patreon Strikes When The Iron Is Hot
When your competition steps in it, there's an opportunity to take advantage.  Patreon has shown a bit of grit in this case, going more for the alienated creators on OnlyFans.
Clubhouse Makes It Easier to Rope Friends into Your Rooms
Clubhouse is launching "Wave" for iOS and Android which will let you invite people to audio chats. Tap on the waving hand emoji and select the user you wish to bring to the room.
Also this.. saved clips????
Discord Testing YouTube Integration
The popular chat app is testing a "watch together" feature that will let users stream videos with each other and lets them create playlists in the server. Multiple users will be able to control playback too. Discord is rolling this out to "friends and family" servers first and will make it more widely available in "the next few weeks." Every server should have this in October.
Is Snap's Content Business In Trouble?
Evan Spiegel says Snapchat's creator payouts dropped due to "copycat content." After originally paying more than $1 million a day to top Spotlight contributors, that amount dropped overall. The company changed the terms of its Spotlight program to attract greater content diversity and it has resulted in "record-high submissions," Spiegel claimed.
Deep Dive - Creator Economics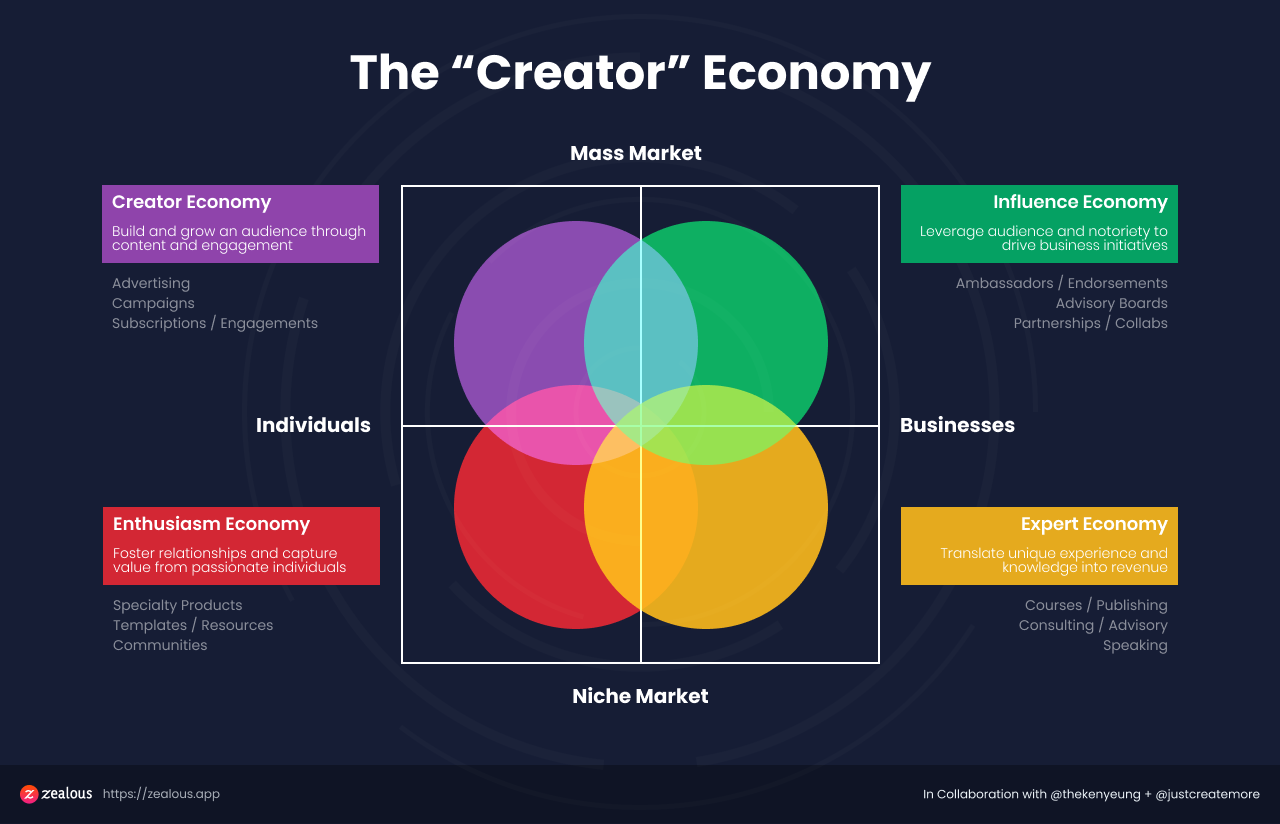 This week we took a dive into the different economic models at work in the creator economy at large based on a thread by Gregarious: