Created Briefs: October 29, 2021
This week on Created Briefs we take a look at tipping on TikTok, Clubhouse's new competition from Amazon, creator startup funding, Cameo's first acquisition and much more!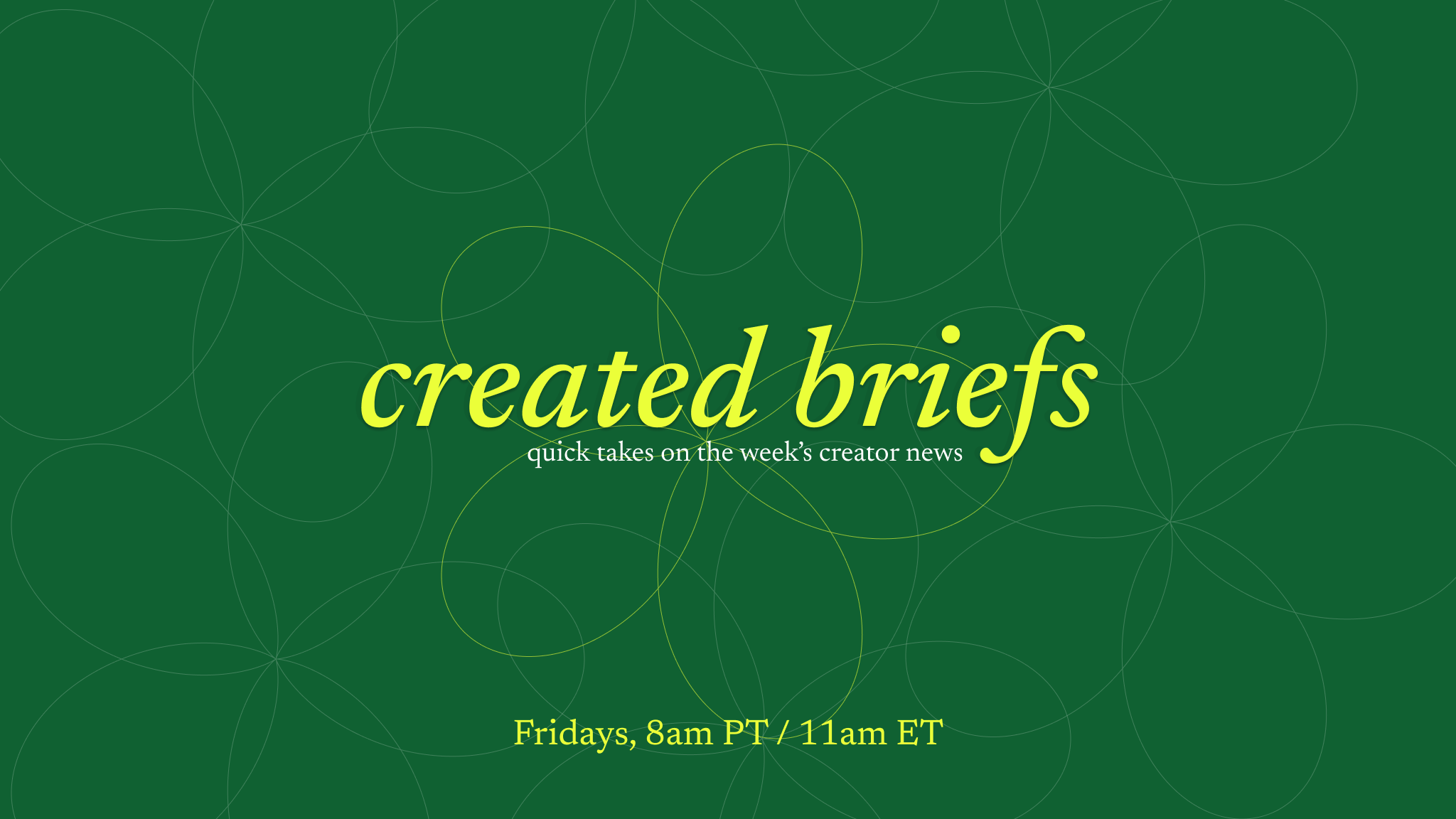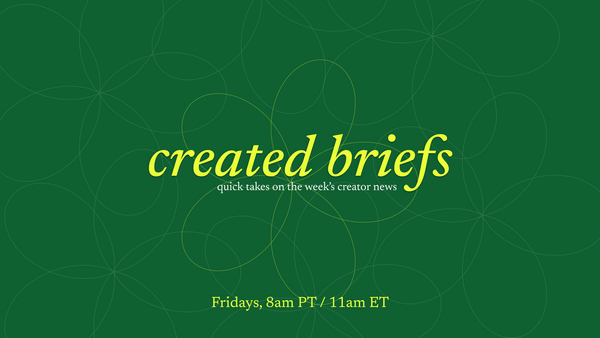 E-Commerce To Be Creator Juggernaut
YouTube's Chief Business Officer Robert Kyncl says e-commerce will be a booming business within the creator economy, as more those with followings turn to merchandise. The video social network is paying attention to this trend. It has already made inroads into this space, acquiring Indian social commerce site SimSim, allowing integrations with custom merchandise platform Spring, and more. Kyncl says in the past three years, YouTube has paid out $30 billion to creators.

Other notables:
YouTube is exploring NFTs and the metaverse
YouTube hired an executive to help build out its audio podcast service

Instagram Finally Direct Connects Creators & Brands
The Creator Economy has lit a fire under Instagram's ass, if you ask us.
Instagram is testing new tools for creators to earn commissions and form partnerships with brands on its platform. The Facebook-owned company is expanding its existing native affiliate tool, which launched in June and allows creators to discover products, share them with followers and earn commissions for sales driven by their posts.

TikTok Trialing Tipping for Creators
TikTokers will be able to solicit tips and gifts from their fans under a new test. Those with at least 100,000 followers and that have an account in good standing are eligible to be part of this trial. TikTok is not taking any cut of the tips. Tipping will be allowed for those livestreaming.
https://www.engadget.com/tiktok-direct-tipping-test-221458738.html

Amazon's Clubhouse Competitor Will Let You Host Your Own Live Radio Show
Amazon is building a social audio app codenamed "Project Mic" that allows users to produce their own live radio show, which could also include music. "This project's big goal is to democratize and reinvent the radio." It'll only be available to those in the U.S. initially. Listeners tune in through either "Project Mic," or using Audible, Amazon Music, Twitch and Alexa-enabled devices. If using Alexa-enabled devices, listeners can interact using their voice. Music for these programs will be sourced from Amazon's catalog.

Bye-Bye Apple Tax?
The recent federal case against Apple is slowly leading to some useful changes in the ecosystem.
"One of the changes is the result of a previously announced settlement agreement with a class of U.S. app developers. It clarifies that developers are allowed to communicate with their customers about other payment methods available outside their app. Related to this, another new guideline explains that apps may request customer information like name and email, but the request must be optional for the user and shouldn't prevent them from using the app."

Creator Services Startup Get Bulk of 2021 Funding
The Information says 101 U.S. startups in the creator economy space have received $3.7 billion in funding so far this year. Those companies specializing in creator services such as talent booking and video editing got the most investment in the third quarter: Investors put $412 million into 15 companies, a third of all the deals. Creator platforms raised $333 million in the same time frame, such as Automattic.
Andreessen Horowitz continues to be among the most active investors in the creator economy, leading deals in more than a dozen startups this year.
Alexis Ohanian's Seven Seven Six is the next active.

Cameo Buys Represent
Cameo has made its first acquisition, buying the marketing and merchandise company Represent. Terms of the deal were not disclosed.
"Represent counts Jennifer Lopez, Ed Sheeran, Leonardo DiCaprio, Matthew McConaughey and Kendall Jenner among the members of its pool of partnered talent, so Cameo will be bringing those relationships into the fold through the acquisition."

"Most of Cameo's users visit the celeb video site to procure gifts for friends and loved ones to celebrate birthdays and other occasions. The company said it facilitated more than 1.3 million videos last year, with the company's top 150 figures earning north of $100,000."

YouTube Cracking Down on Low-Quality Kids Content
If you've got a kid, you've likely seen some kid content and questioned your life in the same moment.  YouTube has warned that new demonization rules are coming in for low-quality kid's content.  At face value, this seems like a good thing, but it's cause for concern as the broader challenges creators worry about - being moderated or demonetized - are all coming back to the top.

The Information Estimates the Metaverse Valued at $82B by 2025
Could this be true?  We'll believe it when we see it in the Metaverse.

Twitter Working on Blockchain-Linked Collectables Tab
Twitter could soon have a tab in users' profiles that may be used to showcase someone's NFTs. A company engineer showed off an early look at what this "Collectables" tab might look like, highlighting how one could connect their crypto wallet from Coinbase, Metamask and others to Twitter.
"In addition to the Collectibles tab, Wong revealed that Twitter is working on a view that lets you get a close-up look at an NFT. You'll also be able to tap through to a page that shows detailed information about the NFT, including a description, its creator, any properties, as well as some information about the collection. One change to note about the Collectibles tab is that it looks like it'll take the place of the Likes tab on your profile — Wong notes that you'll have to scroll horizontally to reach it."
Adobe Photoshop Gets System to Authenticate NFT Creation
Adobe is investing heavily in NFTs, launching a "prepare for NFT" option in Photoshop that would transform JPEGs and PNGs into crypto images. To ensure that work is authentic, Adobe is launching a system called Content Credentials that will allow NFT sellers to link their Adobe ID with their crypto wallet, enabling marketplaces to display a certificate of authenticity of sorts.
Bored Ape Yacht Club NFT Sells at Auction for Record $3.4 Million
A Bored Ape Yacht Club NFT was auctioned off at Sotheby's this week and set a new record, selling for $3.4 million, breaking the previous $2.9 million mark set in September when "The Sandbox" was sold. The purchase of Bored Ape Yacht Club was the first done on the auction house's Metaverse marketplace.