Created Briefs: January 14, 2022
BlueJeans is back with an all-in-one livestream platform for creators. Plus, creator VCs are in demand by founders, and did you know about the Sticker Economy?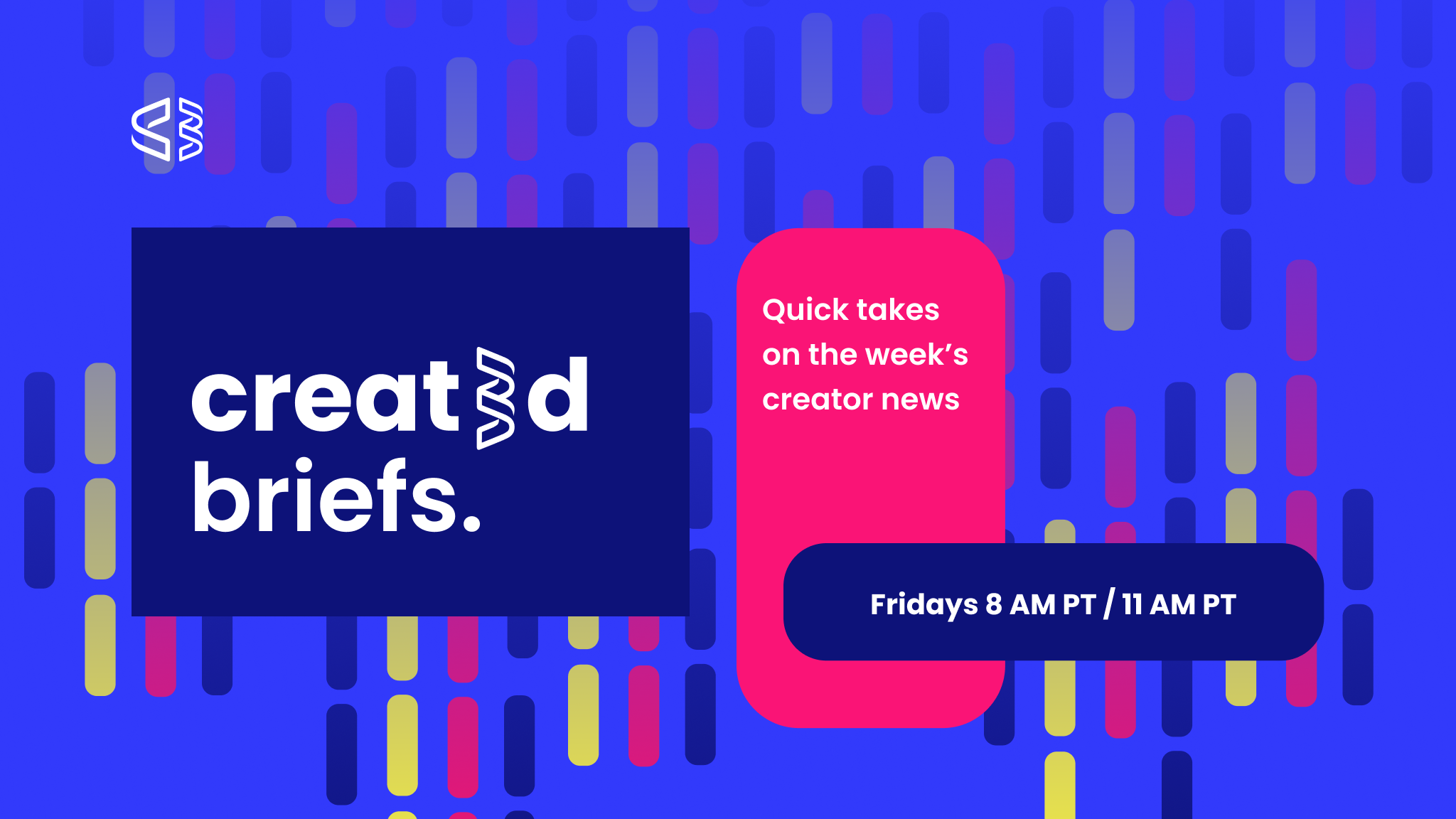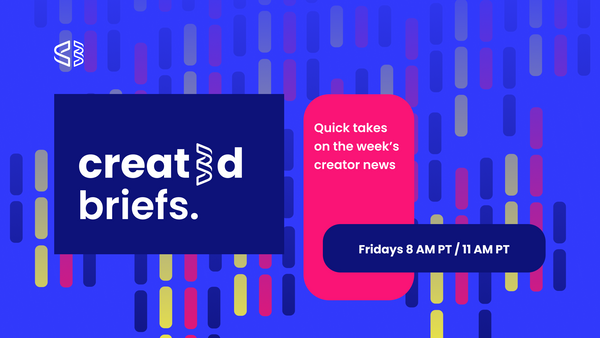 You can watch the replay on our YouTube channel — and be sure to like and subscribe for the latest!
BlueJeans Launches Production and Live Streaming Platform for Creators
The Verizon-owned company is known for video conferencing, but on Thursday it announced a software package that creators can use to produce live events. BlueJeans claims it will not require any technical integration, is more affordable — event plans start at $42 per month, let's you handle all logistics including invites, event security and analytics; and the ability to host up to 150 presenters simultaneously.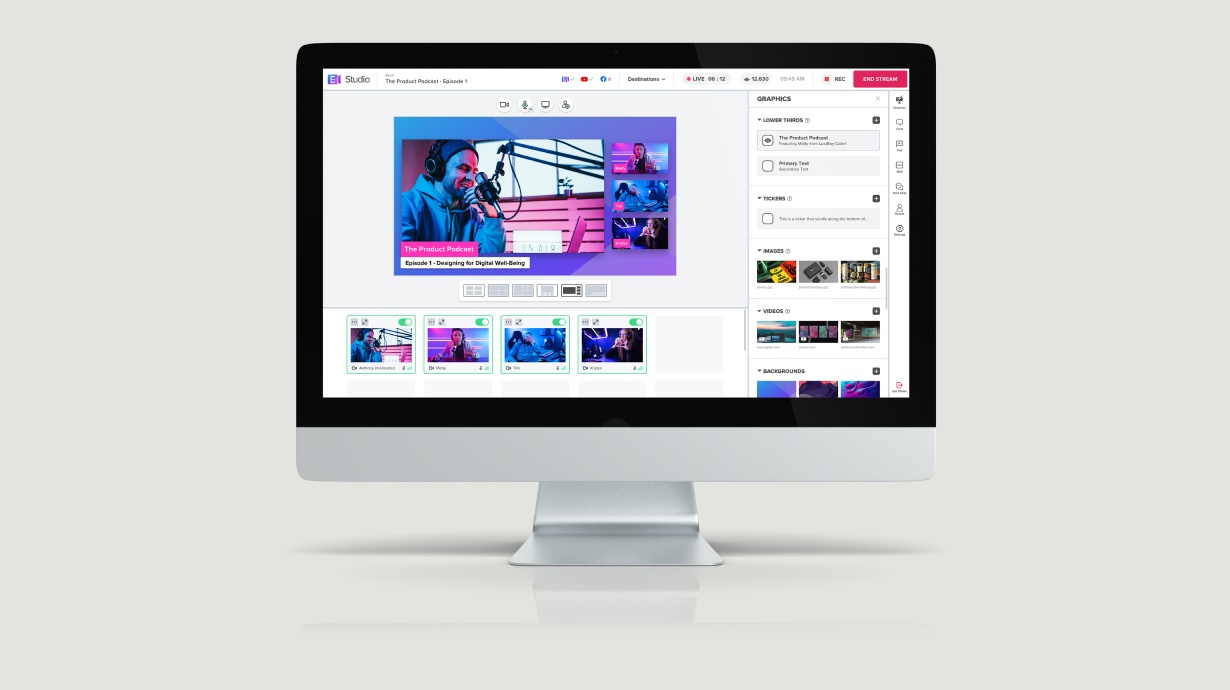 Twitter Now Lets All iOS and Android Users Record Spaces
Anyone that hosts a Twitter Space from their iOS or Android device will now be able to record their sessions. Previously only select users had this feature as of October. Recordings will be available for playback 30 days after the Space ends.
TikTok Teams with CreatorIQ and Influencer.co to Help Pair Creators with Brands
TikTok has named CreatorIQ and Influencer.co as two of its official marketing partners. The partnership better allows TikTokkers to match with brands looking for content. Brands using the marketing services will be able to make real-time decisions around campaign performance using data from TikTok.
Lumanu Helps Creators Get Paid in Crypto
Creators working with brands have to jump through a few administrative hoops in order to be paid for their work, filling out long vendor forms and providing sensitive data to these companies. Cash management service Lumanu says it now supports paying creators in cryptocurrencies. Only a small group of users starting in February will have access to this benefit. Eligible creators choose what percentage of their income they'd like a bitcoin, ethereum or some other crypto.
Twitch Streamers Can Gift Followers Emotes
Emotes are Twitch-specific emoticons used by viewers and streamers to express themselves in chat. This week, platform partners and affiliates will be able to grant them to their fans in exchange for a follow — five emotes will be available for free. Emotes can be uploaded, moved over from subscriber-only tiers or selected from default emotes created by Twitch. This capability was tested in June but now it's more widely available in beta. To gift these emotes, streamers need to be eligible for instant emote uploads.
https://www.engadget.com/twitch-follower-emotes-partners-affiliates-animated-194506216.html
Twitch Plans to Improve Reporting and Appeals Process in 2022
To better protect users from abuse and harassment, Twitch says it will launch new features this year to tackle the issue:
Upgrades to its AI tool that flags potential streamers who repeatedly violate their bans: The company plans to change how streamers can use info from the tool.
Updates to Twitch's sexual content policy to clarify parts of it
Improved educational content across its safety center and other parts of the platform
https://www.engadget.com/twitch-2022-safety-plans-232940991.html?src=rss
Creators By Day, Venture Capitalists By Night
Hot startups fundraising are carving out some equity to give to creators with money. According to The Information, founders who don't want more venture funds investing in their companies are turning to creators because they "perceive creators, more than a financial investor, can help grow their audience and give feedback on products."
Examples cited:
Instagram fashion influencer Danielle Bernstein investing in influencer marketing software startup Grin ($110 million Series B)
YouTuber Casey Neistat investing in fintech startup for managing creator finances Able
Breaking Down How People Shop on Social Platforms
A study from Influencer Marketing Factory reveals how users between 18 to 54 years old in the U.S. shop online:
82% of respondents have discovered a product on social media and purchased it from their phones
57% of people say they have purchased something during a live stream shopping event
39% strongly agree that they love discovering products during live shopping events
The Millionaires of the Sticker Economy
Designers who made money by creating stickers for the popular messaging service Line worry that their pipeline is drying up because the marketplace has become too saturated. Stickers can cost between $0.99 and $4.99, but the creator doesn't get that amount. Instead, Apple or Google get their 30% fee. Then whatever is left is split evenly between Line and the creator. More than $200 million in revenue came from stickers in 2020. More than 4 million designers are on the platform with the top 10 earning an average of approximately $10.2 million throughout their careers.
Like many creator economies, earnings on Line's marketplace are heavily stratified. Only a select few break away to build large followings, making six-figure incomes from revenue sharing and sponsorship deals. When it comes to direct sticker sales, 154 creators have currently pocketed over 100 million yen ($865,000), according to Line. "These become the sort of idealized stories that are told about content creators and Line sticker producers that attract more people to produce these stickers for them, even if it's not necessarily viable," [Mark] Steinberg [director of The Platform Lab at Concordia University in Canada] said.