Created Briefs: February 11, 2022
YouTube's 2022 creator plans, the latest NFT news from OnlyFans and Salesforce, Tumblr gets a tip jar, and can creator-employees work at social media firms?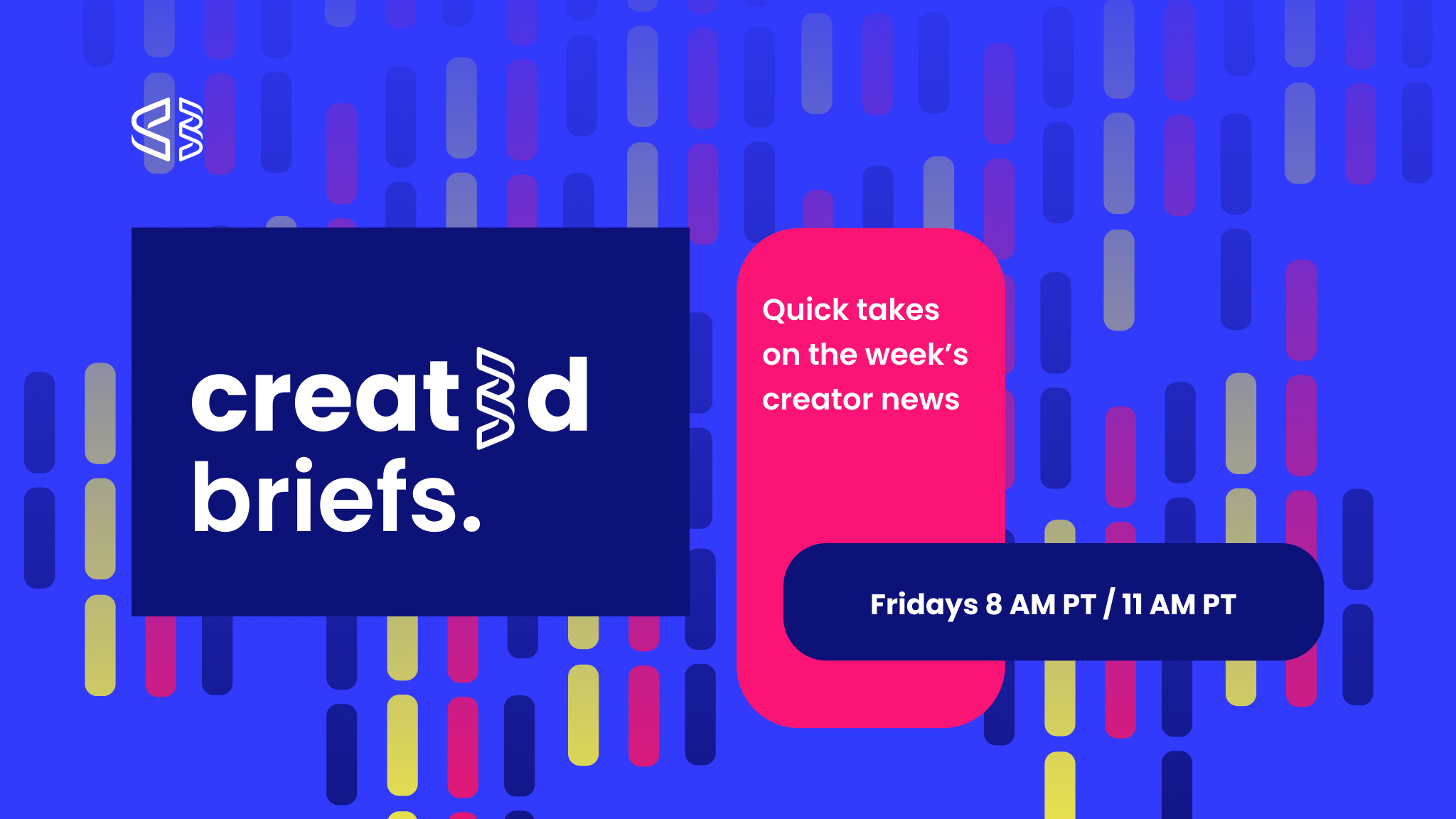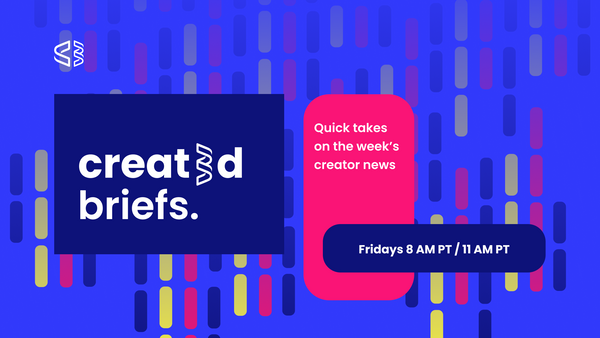 Watch the Replay
Watch the entire replay on the "Created Economy" YouTube channel, and be sure to like and subscribe for the latest video!
---
This Week's Creator News
Koji Launches NFT Storefront App
Last week, Koji announced creators could use its Wallet app to have their earnings withdrawn in crypto. Now, the company has an app that allows creators to sell NFTs directly from inside their Link in Bio inside every social network.
Within the NFT Storefront app, creators can link their crypto wallet. Afterwards, Storefront will auto-populate with NFTs the creator wants to sell, pulling from OpenSea. Fans and interested buyers can browse, purchase and initiate transfers to their own wallets without leaving the Link in Bio environment.
---
OnlyFans Adds Support For NFT Profile Pictures
OnlyFans is following Twitter with supporting NFT profile pictures, but only those minted on the Ethereum blockchain. When the avatar is clicked, users will be displayed information about the digital artwork pulled from OpenSea. OnlyFans' new CEO Ami Gan told TechCrunch the NFT avatars was the first step in the company exploring how NFTs could play on the platform.
---
Tumblr Launches Tip Jar
Tumblr is offering another way for creators to monetize their work, but only if they're in the U.S. The company won't take any cut of the payments, though creators will be charged credit card fees, nor will they be subject to Apple and Google's 30% cut since Tumblr is circumventing each respective app store's billing system. Fans can send tips of up to $100 each and anonymous tipping is allowed.
The tip jar is the second monetization option to launch. Last fall, Tumblr released Post+, enabling users to charge a monthly fee for access to exclusive posts.
---
Discord Testing Forums, New Moderator Tools, and Homepages That Surface Trending Topics
Discord communities will have access to new features the company is trialing starting this week.
The first is a forum-like channel for servers to better organize conversations. According to TechCrunch, "The idea is that people could dip in and out of these special channels asynchronously and not miss out, the same way they might on Reddit. It's also a way to surface older content that's still relevant and loop people into an ongoing thread, letting conversation topics develop over time."
Servers will get an improved homepage feature that curates trending topics and content — a snapshot of what's hotly being discussed by members of the community right now.
Discord admins could soon get automated tools that mimic capabilities from third-party moderation tools. Perhaps making it easier to welcome new users, detect bad behavior, and even boot those who violate the rules.
All of these features are available in closed beta and Discord has enrolled some large servers to participate in the trial.  
---
Alchemy Raises $200 Million to Be The 'AWS for Blockchain'
Can Alchemy be the leading infrastructure for all startups building on the blockchain? The company is trying to build a developer platform that removes the complexity and costs of building infrastructure while giving access to "necessary" developer tools to produce better applications.
This week, the firm announced a $200 million round of funding, led by Lightspeed Venture Partners and Silver Lake. Other participants include Andreessen Horowitz, Coatue Management, DFJ, and Lee Fixel's Addition. Alchemy says it's now valued at over $10.2 billion.
Some stats from TechCrunch:
In just the last 12 months, NFT marketplaces built on Alchemy have delivered more than $1.5 billion in royalties to artists, with almost $1 billion of that coming in just the last three months, the company said.
It also boasts that it has powered $105 billion worth of annualized on-chain transactions, more than double the $45 billion figure it shared in October. Meanwhile, the startup continues to operate with a "lean and mean" mentality. At the beginning of 2021, Alchemy had 13 employees. It now has just under 50.
The startup has helped power a number of giants, including OpenSea, Adobe, Dapper Labs and Crypto Punks, among others. It makes its money by charging for compute units. In other words, its customers pay Alchemy based on the amount of computing they use.
---
Salesforce Reportedly Interested in NFT Cloud Offering
Could the enterprise CRM platform be thinking about developing an NFT Cloud? According to what co-CEOs Marc Benioff and Bret Taylor, that's in the cards. The idea is to offer artists a place to create content and release it on OpenSea and other NFT marketplaces, or even in its own ecosystem, circumventing industry leaders.
Benioff and his wife Lynne have minted NFTs before: TIMEPieces, a digital collectible giving owners access to magazine content and events.
---
YouTube Announces Slate of Creator Tools and Features for 2022
In a lengthy blog post, YouTube's Chief Product Officer Neal Mohan outlined the company's plans for creators this year.
YouTube Shorts:
New video effects, editing capabilities, and ability to reply to comments via Shorts
More ways to monetize Shorts, including with branded content, enabling Super Chat with Shorts, and shopping via Shorts
Shopping:
YouTube is planning other ways to integrate shopping into its platform
NFTs:
While no formal plans, YouTube hinted possible usage could be allowing creators to tokenize their videos, photos, art and experiences as a way to better engage with fans
Metaverse:
Contemplating about how to make viewing more immersive, perhaps starting with gaming
Other Updates:
Better insights such as understanding how viewers interact with creator content and advice on new videos
Ability to do joint livestreams with other creators
Expansion of gifted memberships — an idea from Twitch
Integration to let you interact with videos you're watching on TV through your phone
YouTube TV redesign
---
How Can A Creator Grow When Working For a Creator-Focused Company?
Social media platforms are not only attracting users-turned-creators, but also from within their own organization. But how much leeway should these companies give to employees to moonlight as influencers?
Highlights from The Information:
TikTok, Twitch and other social platforms encourage their own employees to moonlight as creators. But they're increasingly juggling conflicts of interest that can arise from the practice.
Employees could bring embarrassment to their companies by producing distasteful content or—depending on how prodigious their creative output is—could raise questions about just how committed they are to their day jobs. And then there are the potential conflicts of interest that can arise when employees possess inside information about their companies' plans and inner workings—for example, details about how a platform's algorithms recommend posts.
Patreon isn't the only platform that encourages employees to pursue their creator dreams. Policies regarding the practice vary from company to company, but most say they evaluate situations on an individual basis for conflicts of interest and decide whether to restrict an employee from, say, cutting a sponsorship deal with a brand based on the employee's role at the company.