Created Briefs: December 17, 2021
Shopify's surprising NFT play and Nike buys RTFKT are the big news items from this week, but we also talk about Facebook's latest Creator Economy update and Snap's creator payouts.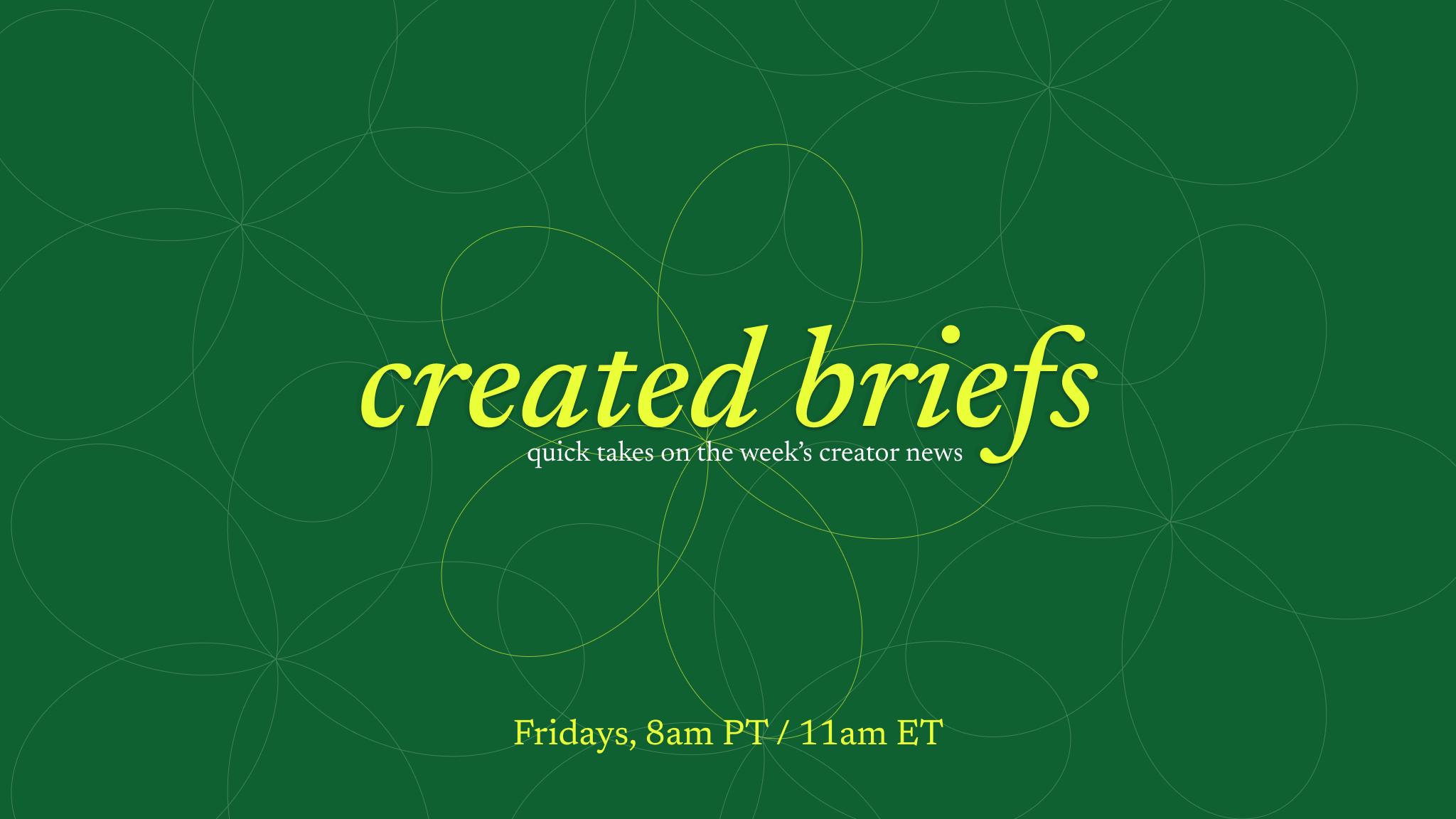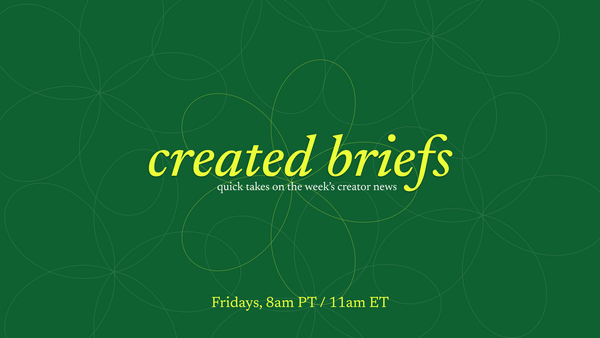 Facebook's Latest Creator Update: Visual Replies in Instagram Reels
Within Instagram Reels, if a user comments on a video you've posted, you can tap on the "reply" button to add a sticker of the comment into a new reel. It's said this feature is similar to what TikTok does with video replies. Currently, this feature is only available for reel comments.
Snap Paid Creators $250 Million in 2021, But Lags Behind YouTube
More than 12,000 creators participating in Snapchat's Spotlight programs have received more than $250 million from the company this year. However, this is far less than what YouTube has paid in three years between 2018 to 2020: $30 billion.
When it first launched the TikTok-style video feature in November 2020, the company said it would shell out upwards of $1 million per day in total among Spotlight contributors with top-performing videos. If it had kept up that pace, Snap would have paid, well, $365 million or more to creators in 2021. According to Snap CEO Evan Spiegel, the company reduced overall Spotlight payments to discourage people from creating viral, one-off copycat videos.
Snap says that its Spotlight creators post three times as often to the section compared to a year ago, with 65 percent of such submissions using one of Snaptchat's tools or augmented reality Lenses.
Instagram Tops 2 Billion Monthly Active Users
Sources tell CNBC that Facebook's photo and video sharing app now has more than 2 billion monthly active users, double what it was in 2018. Instagram stopped publicly revealing its numbers bac in June 2018. However, CNBC notes that it took eight years for the app to cross 1 billion users and only three more to reach 2 billion.
Related Stories:
Qaya Launches Out of Google's Incubator to Help Creators Build Web Storefronts
Nathaniel Naddaff-Hafrey and a team at Google launched a startup to help creators sell products and services directly to their audiences. Qaya produces personalized web storefronts and can be linked to a creator's YouTube Merch Shelf, as well as Google Search and Shopping. Up to 1,000 products can be hosted per storefront. Each store gets a customizable URL and links can be shared to online profiles. Qaya supports Google Pay as well as subscription, tipping and one-time payments. The service is free to use with monetization managed on a transactional basis.
After hearing from dozens of creators about how difficult and time-consuming it is to build their digital businesses, he got the idea for Qaya, a service that would allow them to sell directly to fans. Several other members on the Qaya team are also creators, who bring with them their own experiences with existing creator tools. They understood from their own efforts and other creators they spoke to that there's demand for a flexible, no-code product that could function as a one stop-shop where creators can make money from their work and better connect with their audience.
Qaya launches in beta in the U.S. and those outside the country can sign up for a waitlist.
Is This the New Klout For the Creator Economy?
Yuliya Bel and Tyler Storm created Notus, an app that uses an algorithm to identify "trending voices," analyzing an audience through their interactions with others, their retweets, mentions, likes, replies and more on Twitter. The startup raised $1.25 million in an angel round led by Alexis Ohanian's Seven Seven Six.
Shopify Will Let You Sell NFTs
In a beta program, Shopify is allowing some creators to mint, list and sell their branded NFTs using its e-commerce platform. An employee tweeted that the company is taking a "Blockchain agnostic approach" and is looking at all tokens including Ethereum, Flow and Polygon. Currently, only U.S.-based merchants on Shopify Plus are able to join the beta program, but you can be a brand, artist or creator.
Shopify Invests in Beauty Live Shopping App Supergreat
Supergreat is a live streaming and shopping app based in New York, known for creator-generated product reviews and beauty tip videos. The company has raised $20 million in new funding in a round in which Shopify participated. Supergreat CEO Tyler Faux told The Information that many of its creators are launching on Shopify, "the number one platform we've seen for beauty brands starting today."
This isn't the first investment Shopify has made this year in adjacent businesses. It has funded seven so far, including e-commerce startups Yotpo and Tapcart.
Justin Kan's Back with Solana Gaming NFT Marketplace Fractal
Justin.TV and Twitch co-founder Justin Kan is back with a new startup, this time focused on non-fungible tokens. Fractal wants to challenge OpenSea as the dominant NFT marketplace. Kan wants Fractal to be the "Kickstarter for blockchain games," allowing users to buy exclusive NFTs via pre-sales that'll directly fund the creation of the games. But the company isn't targeting digital art on Ethereum. Rather, it's going after the Solana blockchain.
Nike Acquires RTFKT
Nike is getting into the NFT market with the acquisition of RTFKT. Company president John Donahoe said in a release: "We're acquiring a very talented team of creators with an authentic and connected brand. Our plan is to invest in the RTFKT brand, serve and grow their innovative and creative community and extend Nike's digital footprint and capabilities."
What Nike wants to do is to expand its footprint in the metaverse and create wearable art.
Rally: 77% of Our Creators Have 'Six-Figure' Token Economies
Crypto token platform Rally says 205 of the 266 creators it works with have built "six-figure token economies" and six have even established economies worth more than $1 million. In addition, more than $79 million in $RLY has been given out to creators and communities.
Rally has raised $57 million in venture funding.
https://www.tubefilter.com/2021/12/16/rally-hires-former-meta-exec-six-figure-token-economies/
If Women Make Up Bulk of Creators, Where's the Money for Women-Led Startups?
According to a study from The Information, 4.8 percent of the $3.1 billion investment made in the Creator Economy in the past eight months was to women-led startups. This is a higher percentage of VC funding than what female-founded U.S. startups received in general (2.2 percent).
A 2019 analysis of 3 million Instagram posts sponsored by advertisers found that 84% were posted by women, according to influencer marketing firm Klear. While men are the top-earning Twitch and YouTube video stars, female creators such as Addison Easterling and Bella Poarch have seen huge success on new platforms like TikTok. Digital Brand Architects, owned by talent firm United Talent Agency, said 90% of its clients are women.
This inequality is more problematic for female founders who aren't white.
If there is a male co-founder, startups tend to fare a bit better, however. Those with a female and male founding team raised 8.5 percent of total funding as of August, which is lower than the 11.7 percent that all U.S. startups with a similar team raised.