Created Briefs - August 27, 2021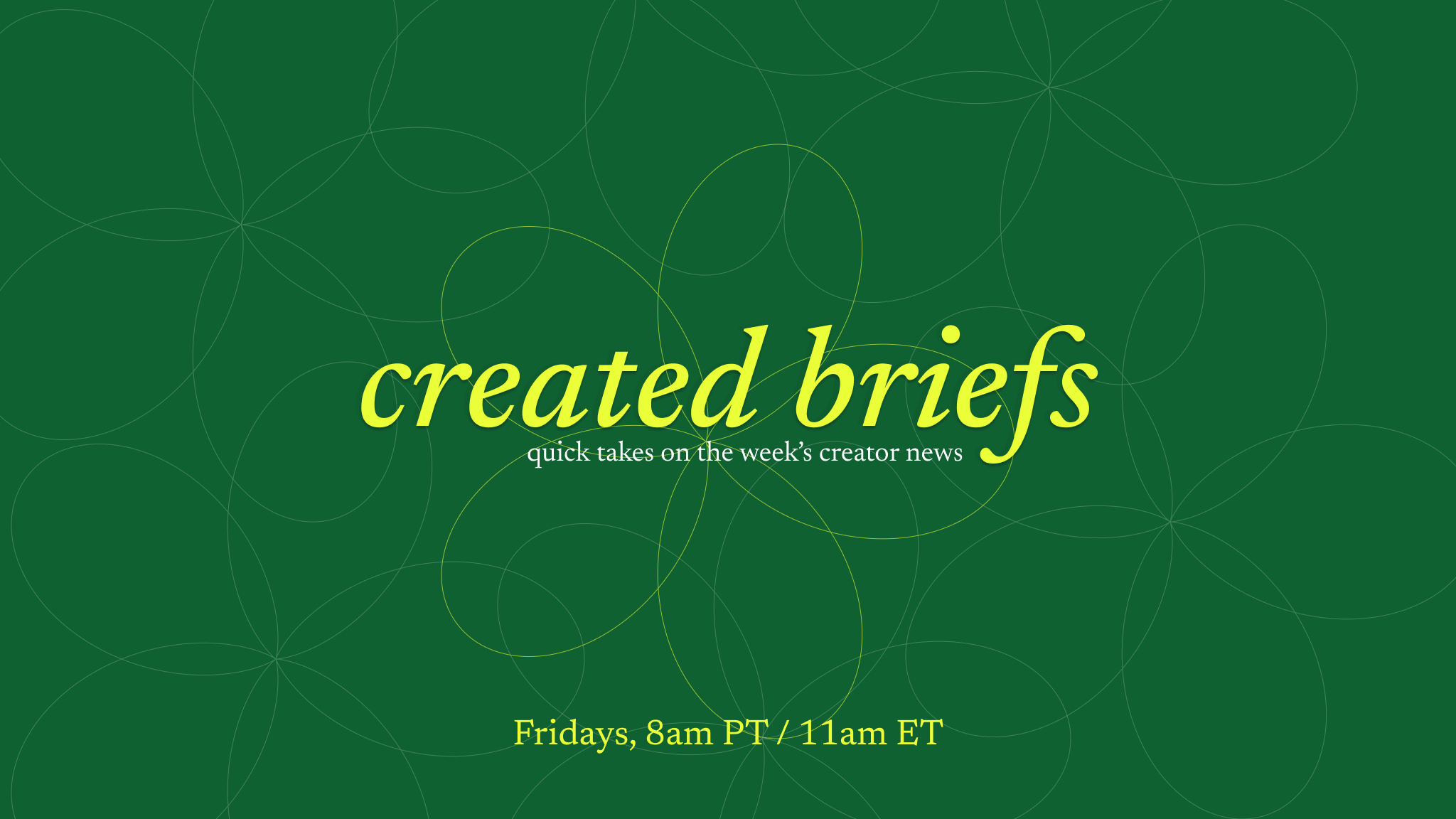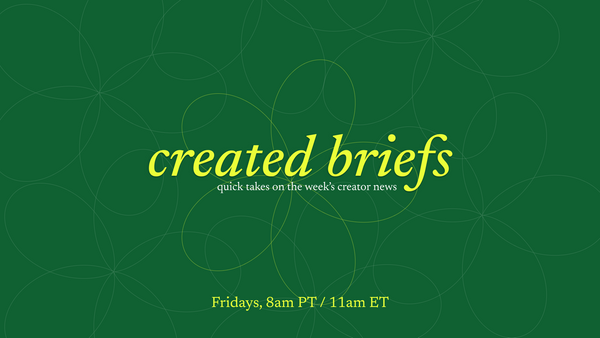 Created Briefs is a weekly news show covering the creator economy.  We stream live on Fridays at 8am PT.
This Week's Creator Economy News

OnlyFans Reverses Ban on Sexually-Explicit Content
Days after saying it would ban porn on its platform, OnlyFans made an abrupt U-turn. The company accused its banking partners of being behind the policy change. OnlyFans said it has secured "assurances" from them and it was committed to being home to all creators.
The statement might ring hollow as many adult sex workers on OnlyFans have expressed concern that they were being pushed off a platform they made successful. Company CEO Tim Stokely told the Financial Times that OnlyFans had "no choice" in its move to block sexually explicit content.
Reading List:

YouTube's Partner Program Now Has 2 Million Creators
YouTube says it has paid out more than $30 billion to creators, artists and media companies in the past three years as part of its Partner Program which started in 2007. "According to YouTube, its creator-payment programs in 2019 alone supported the equivalent of 345,000 full-time jobs in the U.S. alone." The Partner Program now has 2 million creators.

Spotify Let's Podcasters Start Monetizing
Spotify is about to start providing podcasters on its platform a method to monetize through subscriptions.  Will the disconnected distribution ecosystem of podcasts be a rate limiter to this revenue stream's success?


Pay Your Favorite Newsletter Writer in Bitcoin
Substack has added a new form of payment for its creators: Bitcoin. Available initially for a select group of crypto-focused publications, not only can readers pay using Bitcoin, but the writer can choose to keep their earnings in it as well. Substack has integrated with payment processor OpenNode to facilitate these transactions. There are more than 500,000 paid subscribers on Substack and some of the platform's most popular writers reportedly earn as much as six figures.

TikTok Dives Into Commerce with Shopify Partnership
Social Shopping isn't new but the rapid expansion by social platforms to bring commerce into the fold holds tremendous opportunity for creators, brands, and consumers alike.

Twitter Rolls Out Ticketed Spaces for Live Audio
Some iOS users will be able to charge listeners to access their Twitter Spaces.
"Hosts can charge between $1 and $999 for their ticketed rooms and can also set a room size cap for them. These test group participants will initially keep 97 percent of the money they make, after the fee Apple and Google charge for in-app purchases. But Twitter will increase its cut from 3 percent to 20 percent if a user makes a total of $50,000 across their earnings on the app."

Twitter's fee will increase as more people get access to Ticketed Spaces. The company says it's working to release the feature for Android soon.
Instagram to Swap 'Swipe Up' Gesture for Stickers: E-commerce Push or the End of Link in Bios?
Instagram is planning to retire its "swipe up" gesture that select users had for Stories. Starting Aug. 30, creators can apply a link sticker as a replacement. For now, this feature will only be available to verified users but could be made more readily to all in the future.
Instagram Brings Ads to its Shop
Continuing the expansion of social commerce, Instagram is expanding its existing commerce capabilities to include advertising for products in its Shop capabilities.

GIPHY Debuts First-Ever 'Creator Club' to Support Artists Making GIFs and Short Videos
The Facebook-owned GIF company has launched a collaborative program that will pair creators with a "dedicated team" at its Los Angeles creative studio to produce original GIFs and short-form videos. Creators will be provided "guidance, professional opportunities, custom learning sessions with industry experts, and an undisclosed amount of funding 'to help elevate Creators' endeavors to the next level,' GIPHY says."

The first twelve creators selected to participate are Andrés Acosta, Kel Cripe, Clayton Farris, James Koroni, Dylan McKeever, Jasmine Moore, Fia Oruene, Sarah Squirm, TIMA, Thu Tran, Tien Tran, and Christina Xing.
Reading List:

Substack Acquired Cocoon Founders
Substack adds to its product and subscription expertise with the acquisition of Cocoon, a private photo-sharing app.
LinkTree Expands Link Types with Music Acquisition and PayPal Integration
LinkTree expands its offerings for creators and users alike with a direct PayPal integration.  This lightweight step gives more options when it comes to driving direct commerce.
Streamlabs Launches Monthly Tipping Service for Streamers to Get Paid by Fans
Streamlabs Creator Subscriptions give streamers an alternative way to getting paid by their viewers. It's part of the company's OBS software suite that syndicates broadcasts to Twitch, YouTube and Facebook. Setting it up is as easy as enabling a setting and specifying the monthly subscription price. Tips are deposited into a creator's PayPal account. Streamlabs says it will take no cut of the transaction, but payment processing fees could apply.
---
Deep Dive - Apple "Eases" Developer Payments

Apple to Let Developers Directly Contact Users, Inform Them of Alternative Payment Options Outside of iOS
Apple has settled a class-action lawsuit brought by developers, saying it will share more data with them. Additionally, the company will allow the developers to directly reach out to their app users about things including alternate forms of payment besides through the App Store.
Apple will also establish a $100 million fund to support U.S. developers who make less than $1 million.
Apple also promised it would add more features to its developer program. Among them, Apple said it would allow developers to choose from among 500 different price points for apps and in-app purchases, up from fewer than 100 before.
It also promised it wouldn't change its Apple Store search system or its small business pricing programs "for at least the next three years."
Though Apple's proposed settlement does allow developers to communicate with users by email, the company said it will not allow developers to add information in apps that points people to cheaper subscriptions or cheaper alternatives to pay for things off the app store.
This settlement is separate from Epic Games' lawsuit against Apple.