Created Briefs - August 13, 2021
Created Briefs is a weekly news show covering the creator economy. We stream live on Fridays at 8am PT.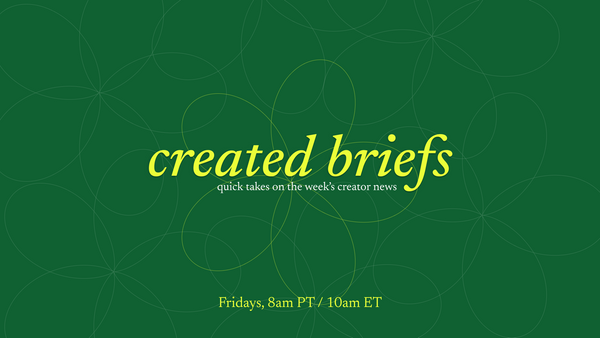 Created Briefs is a weekly news show covering the creator economy.  We stream live on Fridays at 8am PT.
Hosts
This Week's Creator Economy News
The Rumors of Streaming's Death Have Been Greatly Exaggerated
With the world somewhat returning to normal, most anticipated that there would be a massive drop off in the time people spent consuming live content.
The total number of hours watched across all streaming platforms increased by 2.5 percent, from 8.77 billion hours in Q1 to 8.99 billion hours in Q2
Viewers spent 3 billion hours per month watching live streaming content, up 16% from 2.544 billion hours this time last year in Q2 2020
Twitch breaks viewership records for the third quarter in a row
Facebook Gaming triples the number of hours streamed in a year
Viewership growth rates for Twitch and Facebook Gaming slowing down compared to previous quarters.
YouTube Gaming viewership return to pre-covid levels
Grand Theft Auto 5 is the most-watched game across all live streaming platforms
Just Chatting had an impressive 822 million hours watched in Q2. This was a 68 million hour increase from Q1's 754 million hours watched.
Reading List
Watch List

Marginalized Streamers Call on Twitch to Do Better Combating Hate
Thousands of Twitch streamers have called out the company over its lack of protection of those from marginalized communities. There is a Twitter-based movement called "Twitch Do Better" and are demanding the end of "hate raids" on streams. This is when groups of malicious users target a streamer's chat with abuse from dummy accounts and bots. Twitch responded on Thursday with a short statement vowing to have "an open and ongoing dialogue about creator safety" and will launch "channel-level ban evasion detection and account verification improvements" by the end of the year.
Reading List
The Problem With Radical Transparency
For all that social media has offered, it's come with many equally problematic challenges.  One area that has proven persistent is bullying and harassment.  Without a doubt, this can only further compound the mental health challenges creators face.  Twitter already has some tools, not comes Instagram.
Key Offerings
The ability for people to limit comments and DM requests during spikes of increased attention;
Stronger warnings when people try to post potentially offensive comments;
The global rollout of our Hidden Words feature, which allows people to filter abusive DM requests.
Reading List
Snap Losing Creators Over Payments?
Creators who were paid by Snap to produce content for its Spotlights feature are departing for greener pastures. They're migrating to TikTok, Instagram and YouTube after Snap decided to no longer pay creators $1 million per day (it says it'll now pay "millions per month"). Creators are also confused as to how some are and aren't getting paid.
Reading List

Streaming Ain't Just For Gamers
It's easy to convince ourselves that streaming is just gaming, but nothing could be further from the truth.  With Just Chatting being the second most popular topic on Twitch and countless other creators streaming on Facebook Pages, YouTube Channels, and LinkedIn it's undeniable that there is a massive generation of business streamers waiting to emerge.
Reading List

Instagram Pushing Away Artistic Creators
When Instagram started in 2010, it was a platform for photographers and creative artists, but now it's no longer just a "photo-sharing app." Some creators are feeling left out by the app's push towards videos, Reels, and new shopping features.
Reading List
Quora Gets in on the Creator Economy
The question-and-answer social network now lets creators monetize their responses. Creators can be paid for posts they write on the site's Spaces service, a Medium-like publishing platform, and are paywalled. Quora will take 5% of the subscription fee.

Additionally, users can sign up for Quora+ and pay $5 monthly to access locked content. Payment does not go directly to the creators, but rather to Quora who will dispense funds based on "the amount each subscriber is consuming their content, with more of a subscriber's contribution going to writers and spaces the subscriber follows."
Reading List
Medium to Share 50% of Subscriber Revenue with Creators
Medium is tweaking its partner program to establish a referral program from which creators could get a 50% share of subscription revenue their content generates. "Program participants are currently compensated based on how much time Medium users spend reading their content, and will continue to be, even with the referral program in place."

Medium is also making it more difficult for creators to make money: They would first have to demonstrate they have some traction. "Medium users will now need to have accumulated at least 100 followers and have written at least one story before they can join the Partner Program. They must also publish at least one story every six months to remain part of the program."
Reading List
Deep Dive: Is The Creator Economy in Crisis?
Facebook, Twitter, YouTube, TikTok, Snap, and others are copying each other when it comes to creator tools. Gone are the days of true product differentiation that would entice new users. So what will convince creators to switch over to a social network? Perhaps the legacy of that company.
It's a sign of the social media market maturing, similar to how smartphones and laptops now share similar interfaces and functions.
"It's a pretty big shift. Up until a few years ago, the social networks tried to attract audiences by differentiating themselves," said Jasmine Enberg, senior analyst at eMarketer/Insider Intelligence.
"The better the tools that the social networks can offer creators, the better their chances of success are in attracting and retaining users for the new features," Enberg said.
While these platforms have a tremendous amount of power in the ecosystem, is it fair to describe creator work as gig work?  A new post by Li Jin breaks down some potential parallels and methods for breaking the mold.
Reading List